BAGHDAD, Iraq (CNN) -- Ten people were killed during several attacks targeting coalition troops and Iraqi police in the past 24 hours, officials said.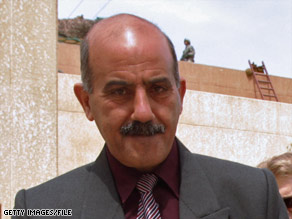 Iraqi troops raided the office of Diyala province's Gov. Raad Rashid al-Tamimi Tuesday.
A suicide car bomber in Anbar province killed seven people late Monday, including five police. The suicide bomber also wounded 11 people, including four police, the Interior Ministry said. The incident occurred in the provincial capital of Ramadi, west of Baghdad.
A U.S. soldier was also killed Tuesday when attackers fired rockets at an operating base in Amara, south of Baghdad, the U.S. military said.
The death is the 17th American casualty this month, bringing the number of U.S. service member deaths in the Iraq war to 4,144.
On Tuesday in eastern Baghdad a gunmen in a car shot at a national police checkpoint, killing one police officer and wounding three others, the Interior Ministry said. Four people were later detained in connection with the incident.
Also on Tuesday, dozens of Iraqi troops raided the offices of the Diyala provincial council, Gov. Raad Rashid al-Tamimi, the deputy governor and the dean of Diyala University, a local official said.
The governor's secretary was killed during a shootout at the offices, a local official told CNN.
Hussein al-Zubaidi, a provincial council member, and Nazar al-Khafaji, the Diyala University dean, were arrested during the raid, the official said.
E-mail to a friend

CNN's Mohammed Tawfeeq contributed to this report.
All About Iraq • Al Qaeda in Iraq • Baghdad