JERUSALEM (CNN) -- The Israeli army said Monday it has helped approximately 85 Fatah-allied Palestinians -- who escaped a bloody Hamas crackdown in Gaza -- relocate to the West Bank city of Jericho.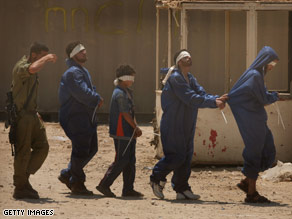 Fatah fighters fleeing Hamas in Gaza are detained at an Israeli army base Sunday at the Nahal Oz crossing.
Israel agreed to help give about 150 Palestinians safe passage through the Jewish state on Saturday, after being asked by Palestinian President Mahmoud Abbas, head of the Fatah party.
The Palestinians are members of the Hilles clan, a family known to support Fatah, who left Gaza after battles with Hamas gunmen on Saturday.
Those clashes left 11 people dead, according to Palestinian medical sources -- marking the bloodiest battle among Palestinians in Gaza since Hamas seized power of the territory from Fatah-allied forces last year.
Some members of the family are still waiting to get permission to enter the West Bank, and another 30 Palestinians who escaped with the Hilles clan were returned to Gaza on Sunday after it was determined they did not have permission to leave, an Abbas aide said.
Hamas accuses the Hilles family of harboring those behind a July 25 beach bombing in Gaza that killed five Hamas members, including Hamas military commander Amar Musubah and a young girl.
Shadi Hilles, 22, told CNN that Hamas gunmen in Gaza fired on some members of her family as they crossed into Israel on Saturday.
Those wounded by the gunfire and the earlier battles in Gaza were taken to a hospital in Ashkelon, Israel, some 7½ miles from the Gaza border.
E-mail to a friend

CNN's Paula Hancocks contributed to this report.
All About Gaza • Mahmoud Abbas • Hamas