JERUSALEM (CNN) -- Israeli agents have been pressuring sick Palestinians to become informants in exchange for permission to leave Gaza for medical care, a human rights group said Monday.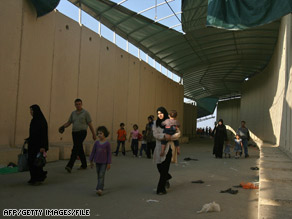 Palestinian families leave Gaza through the Erez Crossing in 2007.
Agents interrogate Gazans who want to enter Israel for medical care about their relatives, neighbors and friends -- and those who don't cooperate often don't get travel clearance, said the group, Physicians for Human Rights-Israel.
But David Baker, spokesman for the Israeli government, said any allegation that receiving medical treatment is contingent on providing intelligence information is "ludicrous."
Since Hamas militants seized control of Gaza last year, Israel has limited the shipment of fuel and electricity into Gaza in an attempt to weaken the militants.
That move -- along with the closure of a border crossing from Gaza into Egypt -- has further limited the quality of health care in Gaza and increased the number of Palestinians seeking permission to cross into Israel to receive treatment there or in the West Bank or other places, a report from the group said.
Physicians for Human Rights-Israel said it has received reports from 32 patients in Gaza who say they were denied permission to leave for refusing to cooperate with Israeli questioners at the Erez Crossing between Gaza and Israel. The group's 80-page report documents the Palestinians' allegations.
The group alleges that Israel's actions violate the Geneva Conventions and the U.N. Convention Against Torture. Israel is wrong to use "the helplessness of the Palestinian patients in Gaza" to try to "pressure them to be collaborators," the founder of Physicians for Human Rights-Israel, Dr. Ruchama Marton, said at a news conference Monday.
Don't Miss
"They are trying to put the patient into a position to lose his or her life or to collaborate and we cannot agree to it," Marton said.
The Israeli Ministry of Defense said Israel must scrutinize people who want to travel from Gaza into Israel for possible security threats, particularly in light of rocket and mortar attacks from Gaza and the attempts of terrorists to infiltrate Israel, sometimes by "making cynical use of humanitarian intermediation."
Israel's internal security service and army "are not experts on medical issues; therefore, they are required to take only security precautions into account" when weighing whether to allow a resident of Gaza to enter Israel, the defense ministry said, according to a letter from the ministry that the human rights group included in its report.
At least two would-be suicide bombings were planned by women who entered or tried to enter Israel on the grounds that they needed medical care, the Israeli prime minister's office said.
Physicians for Human Rights-Israel handles appeals from Gazans who are denied permission to cross into Israel to receive medical treatment.
Despite the security threats, the number of people leaving Gaza for treatment in Israel has climbed steadily in recent years, from 8,325 in 2005 to 15,148 last year, the defense ministry said.
In its report, the human rights group said that Palestinians who are referred to medical treatment outside Gaza typically arrive at the Erez Crossing at an appointed time. Israeli authorities typically strip-search patients and sometimes confiscate their cell phones, recording numbers from a phone's memory, the report said.
"Interrogators then question the patient and demand information in return for permission to access care," the group said in a statement. "In some cases, patients are asked to collaborate ... on a regular basis."
One man quoted in the report -- a Palestinian father of two and colonel in the Palestinian National Guard -- said Israeli agents strip-searched him and asked about his friends when he sought to leave Gaza for heart surgery.
"I remember that the questions were about my connection with Hamas. I said that I had no connection with them," the man said, according to the human rights report.
"He asked me about my friends, and I collected my papers in order to leave. I told him, 'If you want to decide on my entry for passage through Israel to the hospital or prevent it on the basis of collaboration with you, I will not collaborate.' "
The man said Israel did not allow him to enter.
E-mail to a friend