From Elise Labott
CNN State Department Producer
WASHINGTON (CNN) -- The five permanent members of the U.N. Security Council and Germany have agreed to seek further sanctions against Iran over its nuclear program after the Islamic state missed a deadline to respond to council incentives, the State Department said Monday.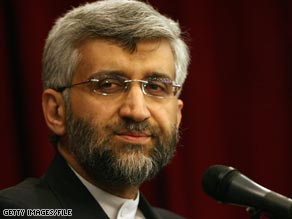 Saeed Jalili, Iran's top nuclear negotiator, says his country will respond to the offer on Tuesday.
In a phone call Monday among their envoys handling the nuclear talks, the six powers agreed that "in the absence of a clear, positive response from Iran, we have no choice but to pursue other measures against Iran," acting State Department spokesman Gonzo Gallegos told reporters.
The Security Council had offered the incentives two weeks ago, and this past Saturday had been the deadline for Iran to respond.
Iran's top nuclear negotiator, Saeed Jalili, told European Union foreign policy chief Javier Solana, the lead European negotiator, that Iran would provide a written response to the offer on Tuesday -- two days after the weekend deadline.
It was not known whether a late response from Iran would head off the sanctions.
The council had offered to suspend sanctions against Tehran in exchange for a suspension of its uranium enrichment activity, which the international community fears could contribute to the production of a nuclear weapon.
Don't Miss
"The pressure on Iran to comply with the demands of the international community and the U.N. Security Council will only grow," Gallegos said.
Last week, an Iranian official said his nation had already responded to the offer of incentives.
Iranian Foreign Minister Manouchehr Mottaki said Iran had responded with its own proposal, which involved another set of talks.
U.S. Secretary of State Condoleezza Rice last week had warned Iran not to delay its response to the incentive offer, made by Security Council permanent members the United States, Britain, France, Russia and China. Germany also joined in the offer to Iran.
The nations offered the package of economic and other incentives because they and others are concerned that Iran may be working to build nuclear weapons. Tehran has insisted its nuclear program is to produce energy, not for military purposes.
Iranian President Mahmoud Ahmadinejad recently said that that there is room for "common ground" between the United States and Iran on the nuclear issue.
Rice, responding to Ahmadinejad, said last week that Iran has a clear choice.
"There is one way for the Iranians to make clear that they have found common ground. It's to come and say, 'We accept the proposal -- this is a good basis for the beginnings for pre-negotiations within a six-week period and then we can suspend our enrichment and reprocessing and we can begin real negotiations.' And the United States ... will be at the table."
E-mail to a friend

All About United Nations • Iran