TEHRAN, Iran (CNN) -- Iran has already responded to an international offer of incentives for suspending its nuclear enrichment activity, Foreign Minister Manouchehr Mottaki told CNN on Wednesday.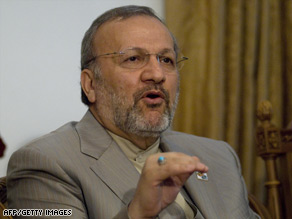 Foreign Minister Manouchehr Mottaki said no deadline was discussed in talks between Iranian and EU negotiators.
Mottaki said Iran responded with its own proposal, which involves another set of talks.
And contrary to what others -- including the United States and the European Union -- have said, no deadline was agreed upon during talks between Iran's top nuclear negotiator, Saeed Jalili, and EU foreign policy chief Javier Solana during talks in Geneva earlier this month, Mottaki said.
U.S. Secretary of State Condoleezza Rice on Tuesday warned Iran not to delay its response. A two-week deadline for the response to the offer made to Iran by envoys from the United States, Britain, France, Germany, Russia and China ends this week, officials have said.
But Mottaki told CNN no deadline was discussed at the meeting -- one was mentioned only afterward.
Solana, in appearing with Jalili at a July 19 conference after the talks, said he expected to receive an answer from Tehran in two weeks.
The nations offered the package of economic and other incentives because they and others are concerned that Iran may be working to build nuclear weapons. Tehran has insisted its nuclear program is to produce energy, not for military purposes.
Iranian President Mahmoud Ahmadinejad recently said in an interview with NBC that there is room for "common ground" between the United States and Iran on the nuclear issue.
But on Tuesday, when asked about his comments, Rice said, "There is one way for the Iranians to make clear that they have found common ground. It's to come and say, 'We accept the proposal -- this is a good basis for the beginnings for pre-negotiations within a six-week period and then we can suspend our enrichment and reprocessing and we can begin real negotiations.' And the United States ... will be at the table."
E-mail to a friend

CNN's Reza Sayah, State Department producer Elise Labott and Journalist Shirzad Bozorgmehr contributed to this report.