(CNN) -- Infighting between the two main Palestinian factions has led to arbitrary arrests, torture and abuse of detainees by both sides, Human Rights Watch said in a report released Wednesday.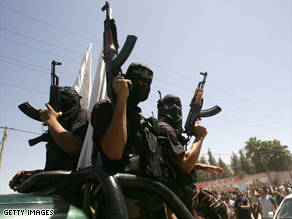 Masked men attend a Gaza City funeral for six Hamas loyalists killed in a bombing blamed on Fatah.
Fatah and Hamas "have carried out a wave of unlawful arrests against opponents in recent days," and "Hamas forces physically abused some of the people they apprehended," the group said in its 113-page report.
Fatah supporter Mahmoud Abu Shatat, 23, told CNN he lost his leg after a brutal torture session by members of political rival Hamas. They burst into his home, he says, looking for weapons.
"They shot me in the leg, blindfolded and handcuffed me, beat me, then shot me again," he said.
He said he has no idea why he was targeted, other than for supporting Fatah.
Security forces on both sides act with impunity, the report says.

Watch Palestinians protest the factional tensions »
"Neither authority is known to have prosecuted any of its own forces for the serious abuses committed during the heavy fighting in Gaza in June 2007, including summary executions, maiming and torture," it charges.
Don't Miss
Both sides told Human Rights Watch they had disciplined officers implicated in abuses, but provided no details.
Fatah, the secular nationalist movement that governed Palestinians for more than a decade, holds sway in the West Bank. Hamas, the religiously inspired rival that displaced it in elections in January 2006, controls the Gaza Strip.
"The political fight between Hamas and Fatah is claiming more and more victims of serious human rights violations every day," said Joe Stork, deputy Middle East and North Africa director at Human Rights Watch.
"Security forces from both sides have targeted activists and organizations of the other party. Their abusive behavior has victimized Palestinians from all walks of life and weakened the rule of law," he said.
Stork recently presented the report to senior Palestinian officials in Gaza and the West Bank, Human Rights Watch said.
The organization submitted written questions to both sides and to the U.S. Middle East security coordinator before publishing the report. The only ones to reply were Hamas Interior Minister Said Siyam and former Hamas Foreign Minister Mahmoud Zahar, the report said.
Neither side has reacted in public to the publication of the report. But independent Palestinian lawmaker Moustafa Barghouti told CNN that there are indications that, especially in the last few weeks, both Hamas and Fatah have carried out political arrests in the West Bank or Gaza.
He could not confirm that either side practiced torture.
He blamed the violence in large part on the split between Gaza and the West Bank and the collapse of the Palestinian unity government.
Palestinian officials told Human Rights Watch that Israel's destruction of security installations, prisons and other criminal justice facilities since the second Intifada began in late 2000 is to blame for the poor state of the Palestinian security and criminal justice systems.
Israel's continuing restrictions on the movement of Palestinian security forces in the West Bank are also a factor, Human Rights Watch said.
E-mail to a friend

CNN's Wilf Dinnick in Ramallah and Ari Bell in Jerusalem contributed to this report.
All About Hamas • Fatah Organization • Israel • Human Rights Watch