JERUSALEM (CNN) -- Scandal-hit Israeli Prime Minister Ehud Olmert announced Wednesday that he will not be his party's leader going into the next election.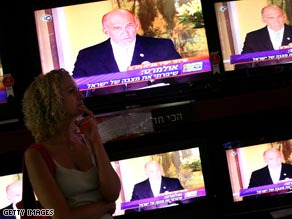 Olmert announced his resignation plans in a televised speech from his home.
Citing "a wave of investigations and criticism" at the hands of his political opponents, he said he will resign once his Kadima party elects a new chairman.
"I am not doing this out of a feeling that I cannot do my job. ... I believe in my ability to continue," he said at his official residence.
"When forced to choose between my own personal standing and considerations that relate to the welfare of the state, it is the latter that will take precedence."
There has been a slew of inquiries into allegations against Olmert. He denies any wrongdoing and has never been convicted of a crime.
Last month, Israeli lawmakers reached a deal that will allow Olmert to stay in power for a few more months. In exchange, Olmert's party agreed to hold primary elections by September 17.
No date has been set for general elections, which will have to be held by sometime next year.

Watch Olmert explain why he is stepping down »
Olmert has been embroiled in a corruption inquiry, and Defense Minister Ehud Barak had said he would pursue new elections if Olmert didn't step down.
Barak's office said after the announcement, "Prime Minister Olmert made a right and appropriate decision.''
Barak is the leader of the Labor party, Olmert's chief coalition partner, and a former prime minister himself.
Foreign Minister Tzipi Livni, one of Olmert's top rivals within Kadima, said in May that the party needed to be ready to replace the prime minister should he step down. There was no immediate reaction Wednesday from Livni.
Olmert had said he would resign only if he is indicted on corruption charges.
Israeli authorities are investigating allegations that Olmert, while serving as Jerusalem mayor and a government minister, asked various public organizations to cover the same expenses and pocketed the extra money.
In May, a U.S. businessman testified that he gave cash-filled envelopes to Olmert.
Olmert was Jerusalem's mayor from 1993 to 2003 and served in several cabinet posts from 2003 to 2006. He took over as prime minister after a 2006 stroke left then-premier Ariel Sharon in a coma from which he has never recovered.
CNN's Atika Shubert in Jerusalem said the allegations surrounding Olmert had made him deeply unpopular with Israelis.
Olmert's announcement comes as the United States is pushing for an Israeli-Palestinian peace agreement before President Bush leaves office in January.
U.S. State Department spokesman Sean McCormack said Washington remains committed to working with Israel, and "the Israelis will work out their own politics."
And a White House official said Wednesday that Bush spoke with Olmert to wish him well after he announced his decision to step down.
"Relations between the United States and Israel during Prime Minister Olmert's tenure have been exceptionally close and cooperative, and the president has appreciated his friendship, his leadership, and his work for peace," National Security Council spokesman Gordon Johndroe said.
E-mail to a friend

All About Israel • Ehud Olmert