(CNN) -- Iraq will be allowed to compete in next month's Olympic Games in China after agreeing to restore its independent national Olympic panel, the International Olympic Committee said Tuesday.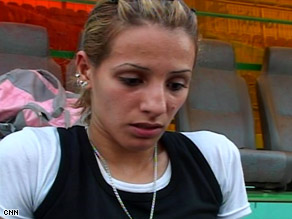 Sprinter Dana Hussein is one of two Iraqi athletes cleared to compete in the Beijing Summer Olympics.
The IOC said it lifted its ban on Iraq's athletes, clearing the country to send two track competitors to the games in Beijing. Because of deadlines for competitors to enter the games, five other athletes Iraq had planned to send won't be allowed to compete, the IOC said.
However, Iraqi government spokesman Ali al-Dabbagh said at least three and as many as five of the athletes may eventually be allowed to compete.
The IOC barred Iraq from participating in the games last month, saying Iraq violated Olympic rules on government interference by disbanding the country's independent National Olympic Committee, or NOC, in May and replacing it with one headed by a government official.
After the IOC met with Iraqi officials in Switzerland on Tuesday, the parties agreed to restore Iraq's committee. The deal will allow Iraq to hold elections for its Olympic committee "no later than the end of November 2008," an IOC statement said.
"We look forward to seeing the Iraqi flag in Beijing," IOC President Jacques Rogge said in the statement.
The two athletes cleared by the IOC to compete in Beijing are a female sprinter and a male discus thrower, an Iraqi Olympics official said.
The other five athletes Iraq had wanted to send are an archer, a judoka, a weightlifter and two rowers. The IOC said a deadline to enter athletes for non-track-and-field events was July 23.
The deadline to submit track athletes is the end of this month.
Basam Ridha al-Husseini, an adviser to Prime Minister Nuri al-Maliki, last week defended Iraq's decision to disband its NOC, saying it was guilty of documented corruption.
Iraq's minister of youth and sports, Jassim M. Jaffer, said last week that the IOC had failed to take into account Iraq's reasons for disbanding the NOC.
Rogge, in the IOC's statement Tuesday, said he commended "the government of Iraq for reaching an agreement that serves the long-term interest of Iraqi athletes."
"We have said all along that we want to see Iraqi athletes in Beijing," Rogge said.
The Beijing games begin August 8.
E-mail to a friend

CNN's Jomana Karadsheh contributed to this report
All About Summer Olympics • Iraq • International Olympic Committee