BEIRUT, Lebanon (CNN) -- At least four people were killed in a gunbattle between opposing forces in northern Lebanon Friday, a senior security source told CNN.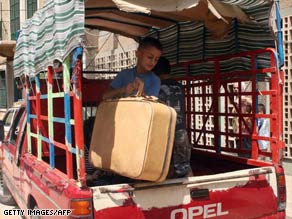 Lebanese Sunni residents in Tripoli leave the area where clashes broke out Friday.
Gunmen loyal to the Shiite Hezbollah-led opposition fought Sunni supporters from the Western-backed parliamentary majority in the port city of Tripoli.
Despite previous suggestions of a cease-fire, the Lebanese Army said sporadic gunfire continues.
Earlier this month, the Lebanese government announced the formation of a unity Cabinet.
The Cabinet, which was part of a deal sponsored by the Arab League, is a step aimed at stabilizing the war-torn country.
The Cabinet gives 11 seats to Hezbollah and its anti-government allies, 16 to the government, and three to Lebanese President Michel Suleiman to fill by appointment.
The deal gives Hezbollah veto power.
The agreement came out of a meeting at Doha in May.
At that time, the Hezbollah opposition agreed to end a sit-in protest that had paralyzed downtown Beirut since late 2006 in exchange for veto power and a redistricting plan before next year's elections.
E-mail to a friend

CNN's Anthony Mills contributed to this report.
All About Lebanon • Hezbollah • Arab League Nations