(CNN) -- Three Germans kidnapped by Kurdish rebels in Turkey were released Sunday after more than a week in captivity.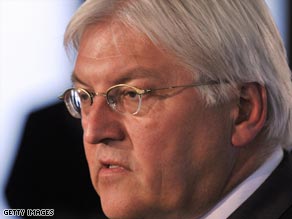 German Foreign Minister Frank-Walter Steinmeier had said the German government refused to be "blackmailed."
The men are recovering at the German Embassy in the Turkish capital, Ankara, according to Germany's foreign minister.
"According to the circumstances they are doing well," German Foreign Minister Frank-Walter Steinmeier said Sunday in Berlin.
"And of course we share the happiness with the freed men and with their relatives."
It is unclear what prompted the rebels to release the hostages. They had said they would hold them until the German government stops "its enemy-like politics" against them.
Mehmet Cetin, the governor of the city of Agri in Turkey, said that after officials check the health of the released hostages, they will be returned to Germany.
"They have been kept in the mountains under bad conditions; naturally, we are concerned about their health," he said.
The Kurdistan Workers' Party, known as the PKK, confirmed taking the three Germans -- Helmut Johann, Martin Georpe and Lars Holper Reime -- from Mount Agri on July 9, according to the Firat News Agency, a pro-Kurdish Web site.
Don't Miss
"We are not the enemies of the German people, and we have not mistreated any of the hostages," the PKK said, according to Firat. "Unless the German government announces it has stopped its enemy-like politics towards PKK and the Kurds, we will not release the German citizens."
Soon after, Steinmeier issued a statement saying the government refuses to be "blackmailed."
Germany and the rest of the European Union consider PKK a terrorist organization, and tensions between Kurdish militants and Europe have been on the rise. The largest portion of Germany's foreign population is from Turkey, which hopes to join the EU.
In June, Germany banned a Kurdish television station that the country's interior minister said was a mouthpiece for the armed group. Germany also extradited two PKK militants to Turkey last year.
In April, a report released by Europol -- the EU law enforcement agency -- said PKK claimed responsibility for 14 out of 15 terror attacks in Germany last year. Also in 2007, nearly 40 suspected PKK members were arrested in five EU nations: Belgium, France, Germany, the Netherlands and Slovakia.
Turkey stepped up its campaign against PKK bases in northern Iraq in recent months in response to increased attacks by the group.
The PKK is a leftist insurgent group that formed in 1984 to fight for an independent Kurdish homeland in southeast Turkey and adjacent areas in northern Iraq and Iran. The group initiated an armed independence campaign that year.
An estimated 35,000 people have died in the conflict.
The rebels more recently claimed to fight for greater rights for Kurds who live in Turkey, according to the U.S. government.
E-mail to a friend

CNN's Talia Kayali contributed to this report
All About Kurdish Politics • Kurdistan Workers' Party • Turkey