BAGHDAD, Iraq (CNN) -- Eager to develop close ties with countries around the world and in its own backyard, Iraq continues to press ahead with diplomatic activity.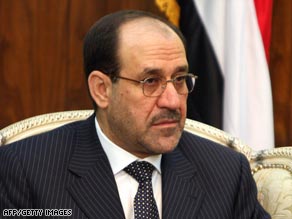 Al-Malaki is due to hold talks with German Chancellor Angela Merkel and Italian PM Silvio Berlusconi.
The government said on Thursday that Iraq's prime minister, Nuri al-Maliki, is meeting next week with the leaders of Germany and Italy and with the pope.
The government also announced the meeting in Baghdad on Thursday between al-Maliki and Saad Hariri, a top Lebanese lawmaker.
Al-Maliki's European trip will begin on Monday in Germany. He and German Chancellor Angela Merkel will discuss strengthening economic and security ties between their two countries.
The Iraqi prime minister, who will be accompanied by a delegation, will also meet with representatives of German companies that have expressed interest and willingness to enter the Iraqi market.
Al-Maliki is to visit Italy next Thursday to discuss cooperation and investment with Italian Prime Minister Silvio Berlusconi.
And he'll meet with Pope Benedict XVI on Friday and brief the pontiff on the steps the Iraqi government is taking to promote equality and national reconciliation.
Iraq has been urging other countries to establish ties with it and has urged the Arab world to name ambassadors and open their embassies in the country.
Sunni Arab countries had been reluctant to restore close ties because of the ongoing warfare, and have been cool to what is a Shiite-dominated government in Iraq.
Iraq, which is majority Shiite, and Iran, which is predominantly Shiite, are developing close ties. They have ambassadors in both countries and al-Maliki and Iranian President Mahmoud Ahmadinejad have made state visits.
Iraq is also making strides in developing ties with other neighbors -- the largely Sunni Arab world -- and other Muslim nations.
Al-Maliki earlier this month visited the United Arab Emirates, which forgave the nearly $7 billion owed to it by Baghdad and agreed to re-establish diplomatic relations with Iraq.
Al-Maliki this year has also visited neighboring Jordan and Jordan's King Abdullah is planning a trip. Turkish Prime Minister Recep Tayyip Erdogan, Iraq's northern neighbor, made a trip to Baghdad last week.
Also, Kuwait's news agency reported that the country, which borders Iraq in the south, is soon is expected to name an ambassador to Baghdad.
As for Hariri, he is the leader of the parliamentary majority in Lebanon -- a diverse country with Sunnis, Shiites and Christians that, like Iraq, has been beset by sectarian warfare.
Hariri said Iraq and Lebanon have "similar internal struggles" and that both countries are facing "interference from countries we all know," regarded as a reference to Syria and Iran.
Hariri said he wanted to show solidarity with Iraq, praised al-Maliki's plans to rebuild the country, called for investment in Iraq, and underscored the importance that democracy succeed in both places.
E-mail to a friend

CNN's Jomana Karadsheh contributed to this report.
All About Nuri al-Maliki • Iraq