From Octavia Nasr
CNN

(CNN) -- The brother of Samir Kuntar, a notorious militant who was released this week from Israeli custody, proclaimed the convicted killer's innocence in the deadly attack that landed him in prison for nearly three decades.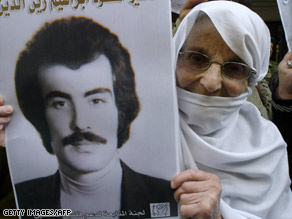 Bahija Zein Eldin holds a picture of her son, convicted killer Samir Kuntar, in a 2004 rally in Lebanon.
Kuntar, 46, was released as part of a controversial prisoner swap between Israel and Hezbollah, after serving almost 30 years of a 542-year sentence.
In exchange for Kuntar, who is regarded as a national hero in Lebanon, and four other militants, Hezbollah released the remains of two Israeli soldiers who were abducted in a 2006 raid.
Kuntar was 16 years old when he crossed the border into Israel on a mission with his brother and two Lebanese militants in 1979. The incursion left a policeman, a young father and his 4-year-old daughter dead.
But Kuntar's brother, Bassam Kuntar, said Danny Haran, 28, and his daughter did not die at Kuntar's hands.
"They were killed during the fire exchange" between the men and Israel police and soldiers, Bassam Kuntar said, repeating his brother's testimony at trial.
The plot's self-described mastermind, Youssef al-Maqdah, also said that details of the attacks have been misconstrued.
"The aim of the mission was to abduct, not to kill," al-Maqdah said in a taped interview that aired Tuesday night on Lebanon's Future TV.
He emphasized that Kuntar and the others involved were only supposed to kidnap Haran, whom al-Maqdah said was a nuclear scientist.
"Two of them [were] to distract Israeli police and fight them until martyrdom," al-Maqdah said. "The other two [were to] head to the house of the nuclear scientist, Dan Haran, abduct him and other hostages if possible and bring him back to the boat and then back to Lebanon for future negotiations."
According to Israeli accounts, Kuntar kidnapped Haran, 28, and his daughter from their apartment and brought them to a beach where he killed Haran in front of his daughter before smashing her head against a rock with the butt of his gun.
During the break-in, Haran's wife, Smadar, hid from the militants in a crawl space with the couple's 2-year-old daughter. She accidentally suffocated the girl in an attempt to keep her from crying, according to her account, which was published in a 2003 Washington Post op-ed piece.
"In trying to save all our lives, I had smothered her," she wrote.
Kuntar was convicted in the deaths of Haran and his two children. He was also convicted of killing a policeman before he and others entered Haran's apartment building.
"It's not clear if this happened at the shore or at sea," Kuntar's brother, Bassam, said in a live interview with Future TV Tuesday night interview.
"Samir will be out soon and will clarify what really happened," he said.
E-mail to a friend