(CNN) -- Iran launched only one missile on Thursday, not a new full round of tests, a senior U.S. military source told CNN, citing the latest U.S. intelligence assessments.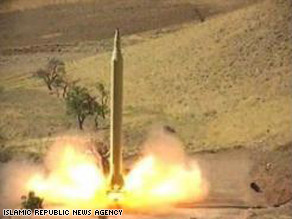 Seven short- to medium-range missiles were fired on Wednesday, the U.S. believes.
Iranian media reported the government fired a series of missiles Thursday in a second day of long-range missile testing.
American radar and satellite data do not back the claim, though it is possible Iran tested short-range missiles, according to the U.S. military official .
The United States believes Iran did fire seven missiles -- including one long-range Shahab-3 -- on Wednesday, as it claimed. The source said one missile failed to launch and the Iranians fired it the following day, U.S. intelligence suggests.
An Iranian news agency photo showing four missiles fired simultaneously, apparently on Wednesday, seems to have been digitally altered to show one missile in the air that was not actually launched, according to the official.
Iran's Press TV and Fars news agency reported Thursday that Tehran had conducted a second day of missile tests, citing Iran's Islamic Revolutionary Guard Corps. Fars said the launches, near the Persian Gulf, were a continuation of the testing that began Wednesday. It said the missiles hit their targets successfully.
The U.S. official, who has access to U.S. intelligence, says one version of a news agency photo appears to show one of the smaller missiles -- an older SA-2 that either failed to launch or was not fired for some other reason -- still on its launcher as three other missiles streak into the Iranian sky.
But in another version of the picture released by the official Iranian news agency, the launcher is obscured by a fourth missile and a cloud of dust, which appears to be a digital composite of two other missiles in the picture.
The tests -- or Tehran's effort to convince the world it was testing -- represent Iran's response to what it says are threats from the United States and Israel. They also dramatize the ongoing saber-rattling between Israel and Iran.
Don't Miss
"If Washington and Tel Aviv are foolish enough to even consider attacking Iran, our initial response would be to target Israel and set U.S. interests in the Persian Gulf ablaze," Ali Shirazi, an aide to Iranian Supreme Leader Ayatollah Ali Khamenei, said Tuesday.
Speaking just before the latest reports of more tests, U.S. Secretary of State Condoleezza Rice said the United States was determined to prevent Iran from threatening its interests or those of its allies.

Watch Rice comment on Iranian missiles »
The United States is working with allies to "make certain that they are capable of defending themselves" against any threat from Iran, Rice said Thursday at a news conference in the Georgian capital of Tblisi.
"We take very strongly our obligation to help our allies defend themselves and no one should be confused about that," she said.
She said a missile defense shield the United States hopes to create in Eastern Europe would be another way to head off any threat from Iran.
Israel Thursday repeated the statement it made after Wednesday's reports of missile testing.
"Israel seeks neither conflict nor hostilities with Iran, but the Iranian nuclear program and the Iranian ballistic missile program must be of concern for the entire International community."
For its part, Israel said, it is planning to display an advanced aircraft capable of spying on Iran. The country's Army Radio told CNN on Thursday that the craft -- the Eitam airplane -- is a "practical answer" to recent Iranian "threats."
Iran's maneuvers this week in the Persian Gulf region come amid international tensions over Iran's nuclear aspirations, and follow an Israeli military exercise last month thought to be a message to Iran.
World powers, which have long suspected Iran is intent on building nuclear weapons, have offered economic and other incentives to the Iranian government in exchange for the suspension of its enrichment program.
Iran, which says its nuclear program is strictly to produce energy, defends its right to proceed with enrichment.
Rice encouraged Iran to "get on the right side of the international community" by accepting a package of incentives put forward by the group that has been leading the United Nations' dealings with Iran: Germany and the permanent members of the Security Council -- China, France, Russia, the United Kingdom and the United States.
Iran "ought to be talking about that, not about threats against America or threats against America's allies because, frankly, it's not going to do them any good."
E-mail to a friend

CNN Pentagon correspondent Barbara Starr, CNN's Michal Zippori and journalist Shirzad Bozorgmehr contributed to this report.
All About Iran • Nuclear Proliferation • Israel • Iraq • Iranian Revolutionary Guard Corps • Syria