BAGHDAD, Iraq (CNN) -- Twenty-one decomposed bodies were found buried at a school under construction in Anbar province, Iraqi authorities said Wednesday, and family members say some of the victims were kidnapped two years ago.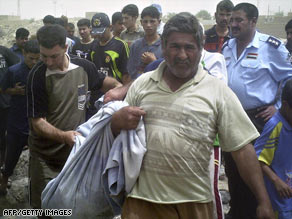 An exhumed body is carried away from a school being built in Ramadi, Iraq.
The bodies were found in the Adala neighborhood of central Ramadi, the capital of Anbar province west of Baghdad, an Iraqi Interior Ministry official said.
Laborers working at the construction site found the corpses, which Iraqi security forces transferred to a morgue.
Family members have identified some of the bodies, the official said.
Largely Sunni Anbar province was once dominated by insurgents, including members of al Qaeda in Iraq. But in the past two years, an anti-al Qaeda tribal movement called "the awakening" has managed to reduce their numbers in the province's Euphrates River valley area.
U.S.-backed groups called Awakening Councils have spread across Iraq.
Also on Wednesday, a soldier with the U.S.-led coalition was killed in an explosion in Salaheddin province in northern Iraq, the U.S. military said. Two other coalition soldiers were wounded.
Don't Miss
The nationalities of the casualties were not clear. Two other coalition soldiers, both Americans, have been killed this month.

Watch when U.S. troops might leave Iraq »
In northern Iraq, a suicide car bomber targeting soldiers killed eight civilians and wounded 42 other people in Mosul, the capital of Nineveh province, an Interior Ministry official said.
The attacker targeted an Iraqi army convoy carrying Lt. Gen. Riyadh Jalal Tawfiq, chief of operations in Nineveh province. He escaped unharmed, but seven of his guards were wounded.
U.S. and Iraqi troops have been stepping up their fight against al Qaeda in Iraq, the Sunni militant group with a strong presence in northern Iraq.
E-mail to a friend

CNN's Mohammed Tawfeeq contributed to this report.
All About Iraq • Anbar Province • Mosul • Suicide Attacks