JERUSALEM (CNN) -- Israel has signed a U.N.-brokered deal with Hezbollah under which it plans to release prisoners in exchange for two captured Israeli soldiers, both presumed dead, the Israeli prime minister's office said Monday.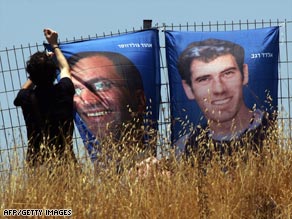 An Israeli hangs posters of the soldiers Eldad Regev, right, and Ehud "Udi" Goldwasser last month in Jerusalem.
The agreement was signed in front of a U.N. envoy by Israeli negotiator Ofer Dekel, who is in Europe, the office said. The office had no further details.
The Israeli Cabinet approved the deal with Hezbollah on June 29, and Hezbollah leader Hassan Nasrallah announced his group had accepted the agreement several days later.
There are still several hurdles that must be overcome before the agreement is implemented.
Israel has yet to receive a final report from the Lebanese militant group on Ron Arad, an Israeli airman who has been missing since he was forced to eject from his plane over Lebanon in October 1986.
Once it receives that report, the statement said, Israel will set up a timetable for the prisoner release, which will include convicted murderer Sami Kuntar, who is hailed as a hero by Hezbollah.
Then-Israeli Prime Minister Ariel Sharon promised the Arad family in 2004 that Kuntar would not be released unless Hezbollah provided information on Arad. Sharon has been in a coma since suffering a stroke in 2006.
Hezbollah will release two Israeli soldiers, Ehud "Udi" Goldwasser and Eldad Regev, who Israel has believed to be dead.
Their capture in July 2006 sparked a 34-day war between Israel and Hezbollah militants in Lebanon.
Israeli Prime Minister Ehud Olmert told his Cabinet last week that "as far as we know, our two soldiers ... are not alive," but Hezbollah leader Nasrallah called Olmert's statement speculative.
In June, Israel's chief military rabbi began the process to determine whether to declare Goldwasser and Regev killed in action.
Kuntar was convicted over a 1979 attack in which he shot and killed an Israeli man in front of his 4-year-old daughter, then smashed her head against a rock with his rifle butt, tossing her body into the sea.
Another daughter, 2, was accidentally smothered by her mother, who tried to keep her quiet as they hid from the attackers.
Kuntar was convicted of murdering both children in the attack, which was orchestrated by the Palestine Liberation Front to protest the signing of the Egyptian-Israeli peace treaty at Camp David, Maryland, in 1978.
Six years after his imprisonment, the PLF orchestrated the 1985 hijacking of the Achille Lauro, an Italian cruise ship, to secure Kuntar's release. Leon Klinghoffer, 69, a Jewish American who used a wheelchair, was killed in the hijacking, and his body dumped overboard.
E-mail to a friend