From Mike Mount
CNN Pentagon Producer
WASHINGTON (CNN) -- Iraq is making positive steps in security and stability, according to the U.S. military's highest ranking officer.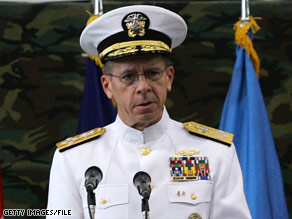 Adm. Michael Mullen said a decision on further U.S. troop withdrawals could come later this year.
Joint Chiefs of Staff chairman Adm. Michael Mullen said violence was down to its lowest point in four years and a decision whether to drop the number of troops below the level immediately preceding 2007's "surge" would come later in the year if stability continued.
The decrease in violence "ties into decisions to be made later this year about the level of forces," Mullen told reporters Monday in Baghdad's heavily fortified Green Zone -- the seat of U.S. power in Iraq -- after meeting with U.S. troops.
Mullen, on a four-day tour of Iraq, is visiting commanders, including Gen. David Petraeus, the top U.S. commander in Iraq, and is traveling with a USO tour to numerous bases around the country.
The Joint Chiefs chairman spoke about walking through Baghdad's Sadr City neighborhood, where Iraqi and U.S. forces recently struck a cease-fire with Shiite militants.
"I've seen extraordinary progress there. A few months ago, no one could go into Sadr City. I was able to walk openly down a street," he said.
But Mullen said even Sadr City has more areas that need to be secured.
"It's not the end state. It indicates progress," he said.
The Pentagon repeatedly has said a number of political and security milestones must be met for the United States to be able to remove troops, including reduced levels of sectarian violence, political reconciliation and stronger Iraqi forces.
Troop reductions will pause this summer while commanders decide how many U.S. troops are needed to keep violence down. The last of the five "surge" brigades -- those sent to bolster U.S. forces last year -- is in the process of leaving Iraq.
The last six to nine months have shown improvements and commanders want to wait about another six months to make a decision about further withdrawals, Mullen said.
On Monday, Iraqi Prime Minister Nuri al-Maliki said he favored a short-term agreement with the United States that spells out a troop withdrawal schedule. Mullen said that was not in conflict with U.S. wishes.
"We would all like to see U.S. troops get out of here at some point in time," Mullen said. "From the military perspective, I need the laws and regulations and the agreements from the government of Iraq in order to continue operations beyond the 31st of December of this year."
Al-Maliki's comments came as frustrated negotiators have been working on a long-term bilateral pact that would cover security.
"Now we are trying to reach a memorandum of understanding either to end the presence of the troops or a memorandum of understanding to reschedule their withdrawal," al-Maliki said in Abu Dhabi, according to his press office in Baghdad.
Iraq and the United States have been negotiating strategic framework and status-of-forces agreements that will spell out their relationship in security and other areas.
Al-Maliki reiterated on Monday that the underlying aim of the agreement is the "full sovereignty of Iraq."
A U.N. mandate that sets down the parameters for U.S.-led coalition forces in Iraq expires at the end of the year. The United States wants to forge an agreement by the end of July.
E-mail to a friend

All About Iraq • Nuri al-Maliki • Michael G. Mullen