BAGHDAD, Iraq (CNN) -- The World Health Organization, one of United Nations' most important agencies, is opening a permanent office in Baghdad, a move that underscores recent security improvements in Iraq's capital.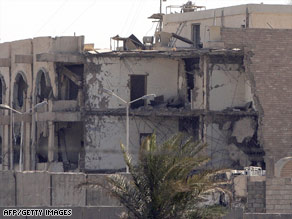 The Canal Hotel, the former U.N. headquarters in Baghdad, still appears as a ruin in September 2007.
The special representative of the U.N. secretary-general for Iraq, Staffan de Mistura, made the announcement Saturday.
WHO's representative in Iraq, Nae'ema Al-Gasseer, will be permanently based in the Iraqi capital.
The move comes nearly five years after the U.N. headquarters in Iraq was bombed, killing 22 people and curtailing a lot of the agency's work. One of those killed in the strike was the chief of the U.N. mission in Iraq, Sergio Vieira de Mello.
In the post-Saddam Hussein era, the U.N. has lent support to Iraqi elections and the political process, as well as reconstruction.
WHO has performed vaccination campaigns in Iraq and has dealt with outbreaks such as cholera and avian influenza.
"We will continue to provide more support to the Iraqis through our programs in many areas of activity," de Mistura said.
Al Qaeda in Iraq claims Anbar attack
Militants affiliated with an al Qaeda in Iraq group claimed responsibility Saturday for a recent attack against tribal sheikhs, according to a statement posted on Islamist Web sites.
The Islamic State of Iraq, a propaganda front for al Qaeda in Iraq, said that a strike Thursday in the Anbar province town of Karma targeted "awakening elements," a grass-roots movement that opposes al Qaeda in Iraq.
CNN could not confirm the authenticity of the claim.
Officials said 25 people were killed, including three U.S. Marines and several sheikhs, and 20 others were wounded at the meeting just west of Baghdad.
One of the dead Marines was Lt. Col. Max A. Galeai, 42, of American Samoa, commander of the 2nd Battalion, 3rd Marines at Marine Corps Base Hawaii, and one of the highest-ranking American officers to die in Iraq this year.
Along with Galeai, an Army colonel and a Marine lieutenant colonel died in attacks this spring, according to information from the Pentagon.
Also killed in Thursday's attack were Capt. Philip J. Dykeman, 38, of Brockport, New York; and Cpl. Marcus W. Preudhomme, 23, of North Miami Beach, Florida.
The awakening movement began over the past couple of years in Anbar province, a predominantly Sunni Arab region where militants once prevailed. U.S.-backed Sunni groups since have emerged in Anbar and other regions.
Because of the awakening movement, violence in the vast province of Anbar has dropped, and it has been secure enough for the U.S. military to plan to transfer the security lead to Iraqi forces.
Other developments

• Three insurgents were killed and a dozen people were detained in raids targeting al Qaeda in Iraq, the U.S. military said Saturday.
• Azerbaijan said one of its soldiers died in Iraq, according to the Azeri Press Agency. The agency cited an official statement from the Defense Ministry, but there were no further details. It was that country's first soldier to die in Iraq.
E-mail to a friend

All About Al Qaeda in Iraq • Iraq War • Anbar Province