JERUSALEM (CNN) -- Israeli Prime Minister Ehud Olmert will ask his Cabinet on Sunday to approve a deal with Hezbollah that would involve exchanging prisoners for two captured Israeli soldiers.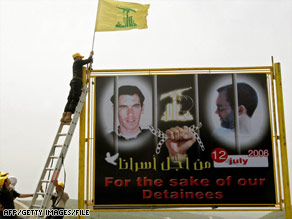 A Hezbollah militant in 2007 puts a flag on a billboard in Lebanon of two kidnapped Israeli soldiers.
Olmert told Karnit Goldwasser, the wife of one of the kidnapped soldiers, about the development, she said.
Hezbollah militants kidnapped Ehud Goldwasser and Eldad Regev and killed three other Israeli soldiers in a July 2006 raid into northern Israel.
Goldwasser and Regev were believed to have been badly wounded in the attack, which sparked a 34-day war between Israel and Hezbollah militants in Lebanon. Israeli troops invaded Lebanon in an unsuccessful attempt to rescue the soldiers.
Israel's chief military rabbi began a procedure Monday to determine whether to declare the two soldiers as killed in action.
Earlier this month, Israel deported a Lebanese-born man who served six years in jail on charges of spying for Hezbollah.
In exchange, Hezbollah handed over a brown coffin containing the remains of Israeli soldiers killed during the 2006 war. The move was seen as a prelude to a possible prisoner swap between Israel and Hezbollah.
Hezbollah is most interested in the release of convicted killer Samir Kuntar, who is the longest-serving Lebanese prisoner in Israel.
Kuntar, who is hailed as a hero by Hezbollah, led a group of four men who entered Israel from Lebanon by boat in 1979. They killed a police officer who came across them. Then they took a 28-year-old man and his 4-year-old daughter hostage. Kuntar shot the father dead at close range in front of his daughter and tossed his body into the sea. He also smashed the girl's head, killing her.
An Israeli court sentenced him to life in prison.
E-mail to a friend

CNN's Cal Perry contributed to this report
All About Hezbollah • Samir Kuntar • Israel