JEDDAH, Saudi Arabia (CNN) -- The supply and demand of oil around the world is "normal," a key adviser to Saudi Arabia's oil minister said Friday, pointing to factors including speculators and currency fluctuations for rocketing oil prices.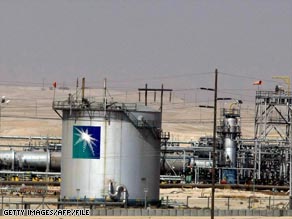 Saudi Arabia will host a meeting of oil-producing and -consuming nations Sunday in Jeddah.
Dr. Ibrahim al Muhanna, adviser to the Saudi oil minister, said that speculators were having "some impact" and that investors were looking for investments "outside normal channels" in the hope of making money.
But, he said there were other factors, including "fluctuating currencies," a reference to the steep fall of the U.S. dollar, and fears that world economies might be in trouble.
Saudi Arabia is increasing its oil output by 200,000 barrels per day, and the kingdom says it will convene an international meeting of oil-producing and -consuming nations this weekend to deal with the problem of rising oil prices.
In an interview with CNN, Muhanna said that not only is oil going up -- trading about $135 a barrel Friday -- but oil prices have fluctuated "in a big way" in recent months.
"We need stability," he said, adding that Saudi Arabia would like to see producers, consumers and distributors cooperate.
The meeting of oil-producing and -consuming nations will be held Sunday in Jeddah, with as many as 38 countries, four international organizations and 30 oil companies agreeing to attend, according to a statement on the Web site of Saudi Arabia's embassy in London.
"Saudi Arabia's hosting of the oil conference comes out of its positive role in international relations and its concern toward the world's economy and oil market stability and its desire for cooperation between oil producers and consumers," the Saudi Council of Ministers is quoted as saying.
British Prime Minister Gordon Brown will speak at the conference, the statement said.
United Nations Secretary-General Ban Ki-moon has welcomed the meeting, saying Thursday that oil prices "have had a major impact on the rising cost of food, a concern expressed by a number of world leaders during a recent summit held in Rome to discuss the global food crisis."
The embassy statement said that "Saudi Arabia recently announced a plan to increase oil output by 200,000 barrels per day."
The United Nations said Saudi Arabia confirmed that plan to Ban over the weekend, saying the 2 percent increase would last from June to July. From May to June, the country raised production by 300,000 barrels a day, Ban's spokesman said Monday.
E-mail to a friend

All About Oil Prices • Oil Production and Refining • Saudi Arabia