BAGHDAD, Iraq (CNN) -- Iraq is contemplating pulling out of security talks with the United States and developing their own legislation that would dictate the shape of the American military presence in the country, an Iraqi official said Thursday.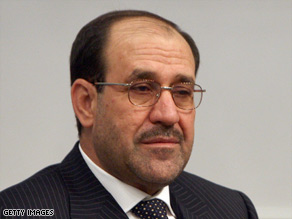 Iraqi Prime Minister Nuri al-Maliki says both sides in the security talks are putting new ideas on the table.
The Iraqi government is considering this new tack out of frustration over the lack of success in negotiations with the United States over a long-term security agreement.
Haidar Abadi, an aide to Prime Minister Nuri al-Maliki, made the remarks to CNN on Thursday about the talks, which have sparked concern among Iraqis that a bilateral security pact will compromise the sovereignty of Iraq.
Abadi said this issue must be broached with Americans, who "are here," making "sacrifices, and defending the country."
But, he said, "we can go now to the parliament," instead of reaching a bilateral agreement. He said there is precedent for Iraqi authority over foreign troops from a Coalition Provisional Authority measure cobbled together at the start of the occupation.
"We can have our own law in Iraq to regulate the existing U.S. forces in Iraq," he said.
Senior American officials involved in the negotiations tell CNN that Iraq's go-it-alone option is a legally viable alternative.
However, the United States hopes to secure a status of forces agreement by the end of July, and officials commenting on those talks have underscored American respect for sovereignty and the fact that negotiations have yet to conclude. At present, a U.N. mandate governs the American military presence through the end of the year.
Al-Maliki, speaking in Jordan on Friday, said "the first drafts that were proposed reached a deadlock," and both sides are putting new ideas on the table.
Armand Cucciniello, a press officer at the U.S. Embassy in Baghdad, said that the security talks, aimed at a "long-term strategic partnership," are continuing, and that respect and recognition of Iraq's sovereignty are their underpinning.
"As President Bush said in Germany, we believe these arrangements are important for the sake of Iraqi's security and well-being. We remain hopeful, as do our Iraqi government partners, regarding a successful conclusion to these negotiations," he said, referring to Bush's remarks during his European visit this week.
Abadi, who is also a member of parliament and al-Maliki's Dawa Party, was asked why Iraq has to enter into a bilateral agreement.
"This is a good question," he said, adding that there doesn't have to be one, but "we need something in place to regulate the existence of the U.S. forces on the Iraqi lands."
Abadi said that at this point in talks, new American proposals in general don't appear to be a "huge or a gross departure from others."
"We are not talking about details. We are talking about principles, which is the sovereignty of Iraq" over its land, its airspace and its people, a position that has widespread agreement among politicians in a nation that frequently has seen political divisions.
"Of course the Americans want to feel freedom of movement on the land, on the airspace and freedom of movement to arrest and detain people," but Iraqi officials are reluctant, Abadi said, to sign a document that would give Americans too much freedom to operate.
"We must control our land and airspace," he said.
But, he noted, Iraq needs U.S. resources, expertise and political clout
"We hope at the end of the day, we serve the U.S. interest because there will be more powerful government" that will be able to "defend itself against international terrorism, against proxies and against all sorts of criminal activities," he said.
Al-Maliki days ago visited Iran, the Shiite neighbor that has significant influence in Iraq. Iran fears an endgame where the U.S. will stage attacks on Iran from Iraq.
Abadi said Iraq has no choice but to engage with Iran, a U.S. foe, for practical reasons -- political, defense and economic, for example -- and it would be foolish to alienate the government there. At the same time, he noted that there has been insurgent activity tied to Iran that must be stopped.
He said a security agreement with Iran is not on the table, though. He said some sort of arrangement has to be made because U.S. troops are in Iraq.
On Tuesday, U.S. Ambassador David Satterfield, the senior adviser and coordinator for Iraq who is leading the talks, said he wasn't fazed by any disagreements or issues emerging in talks. He noted that it's not "unusual" for bargainers to "adjust positions" as talks proceed.
"This is a negotiation process. It has gone on now for some two months. In any negotiation, presentations are made by one side, responded to by the other side," he said.
Satterfield said he is optimistic that a bilateral agreement can be reached by the end of July.
"The government of Iraq requested that a bilateral arrangement ... between Iraq and the United States -- and potentially between Iraq and other coalition partners -- be the new basis for the presence of our, and potentially other, forces in this country and the operation and status of those forces. That is why we are doing this."
Meanwhile, firebrand Shiite cleric Muqtada al-Sadr said in a statement Friday that he is establishing a new fighting force to battle the U.S.-led troops in Iraq.
Sources familiar with the issue have told CNN they believe this is an embrace by al-Sadr of what the Americans call "Special Groups" -- the Iranian-backed rogue Shiite militants who have been fighting American and Iraqi troops.
The mainstream Mehdi Army has been in a cease-fire mode since last summer, an act that dramatically reduced violence in Iraq.
E-mail to a friend

CNN's Michael Ware, Thomas Evans and Yousif Bassil contributed to this report.
All About Nuri al-Maliki • Iraq • Muqtada al-Sadr