(CNN) -- The parents of a captive Israeli soldier received a letter from their son Monday, according to the Carter Center, which arranged delivery of the message.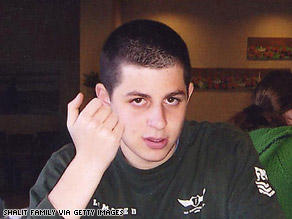 Captured Israeli soldier Gilad Shalit sent a letter to his parents begging for his life, his father says.
Cpl. Gilad Shalit, held for two years, was seized in June 2006 in a raid into Israel by militants of Hamas, the radical Islamic group that Israel and the United States consider a terrorist organization.
His father, Noam, confirmed to CNN that the letter was in Shalit's handwriting and appeared to have been written recently. Noam Shalit said his son pleads for his release and asked to be rescued in the letter.
Former President Jimmy Carter held a controversial meeting with the group's leader, Khaled Meshaal, in April of this year.
Meshaal promised Carter then that Hamas would allow Shalit to send a message to his parents, Noam and Aviva. Carter also asked Hamas to release Shalit, Meshaal said after the former president's visit, but the request was rejected.
The Israeli government and military were not available for comment.
Carter and his staff will attempt to arrange for a return letter from Shalit's parents to their son and hope that an arrangement enabling Shalit's release will be reached soon, according to a statement from the Carter Center.
Don't Miss
In August of last year, Meshaal said Shalit was alive and well. He said Hamas had been negotiating though an Egyptian intermediary for the release of Palestinian prisoners in exchange for Shalit.
Shalit was 19 when he was captured on June 25, 2006, by Palestinian militants who tunneled into Israel and attacked the Israeli army's Kerem Shalom outpost near the Gaza-Israel-Egypt border, according to Israel Defense Forces. Two other Israeli soldiers were killed in the assault.
Hamas is demanding the release of Palestinian prisoners from Israeli jails in exchange for the return of Shalit. Egypt is mediating.
Hamas released an audio message reportedly from Shalit in June 2007 on the first anniversary of his capture.
Weeks after Shalit's capture, Hezbollah militants launched a cross-border raid from Lebanon north of Israel and kidnapped two Israeli soldiers, touching off a war between Israel and Hezbollah.
E-mail to a friend