BAGHDAD, Iraq (CNN) -- Iraqi Prime Minister Nuri al-Maliki arrived in Tehran on Saturday for a visit with top Iranian officials, his office said, while car bombings renewed violence at home.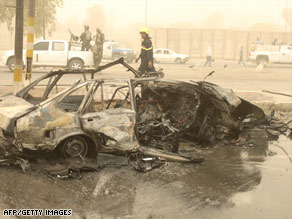 The hulk of a car lies smoldering in a Baghdad street Saturday after a car bombing.
Al-Maliki is expected to discuss a wide range of issues, including Iran's alleged backing of insurgents in Iraq.
The long-term security relationship being negotiated between the United States and Iraq also could be on the agenda.
Al-Maliki, along with lawmakers and Cabinet ministers, is to meet with Iranian supreme leader Ayatollah Ali Khamenei, President Mahmoud Ahmadinejad and other senior officials, according to Iran's Islamic Republic News Agency.
Concerns that Iranian agents are training and arming Shiite militants in Iraq have persisted. Iraqis and Iranian leaders alike are also concerned about the long-term security relationship the United States is forging with Iraq.
A government official said al-Maliki will underscore to Iran that any long-term agreement willl not permit "American forces to launch attacks or conduct warfare or any kind of aggression against any neighboring country from Iraqi soil."
Don't Miss
Al-Maliki's media adviser, Ali Hadi, said negotiations are in their "very early stages."
"The treaty is purely an Iraqi-American treaty; the Iranians have nothing to do with it. We will not discuss the progress or the key elements of agreements or disagreements with them because this is an Iraqi issue," Hadi said.
The visit to Iran is al-Maliki's third since he became prime minister more than two years ago. The two countries, which are neighbors, both have Shiite Muslim majorities.
Bombings in Baghdad on Saturday afternoon killed four people and wounded nearly two dozen others, an Interior Ministry official said.
A parked car bomb exploded near a bus station in Tayaran Square in central Baghdad, killing three civilians and wounding 15 others.
A suicide car bomb struck a police patrol in Nisoor Square in western Baghdad, killing a police officer and wounding seven people, including four police officers.
Meanwhile, coalition troops in northern Iraq killed four militants and Iraqi soldiers working to keep the peace in Baghdad's Sadr City seized a large quantity of weapons, the U.S. military said.
U.S. and Iraqi troops are taking on Sunni insurgents in Nineveh province and Shiite militants in Sadr City, where a cease-fire is in place after weeks of fierce fighting between troops and militia groups.
Troops near Baaj, about 80 miles southwest of Mosul, killed the four in raids on "foreign terrorist safe houses." They destroyed two buildings, weapons, and a vehicle, the military said.
Iraqi soldiers in Sadr City found caches containing rifles, rocket launchers, rocket-propelled grenade propellants, mortar and artillery rounds, an anti-tank mine, and explosives. They also found fake ID cards, license plates, videotape, and telephones, the military said.
E-mail to a friend

CNN's Mohammed Tawfeeq contributed to this report.