RAMALLAH, West Bank (CNN) -- Palestinian Authority President Mahmoud Abbas on Wednesday called for talks with rival Hamas aimed at forming a new government after a yearlong political and territorial split.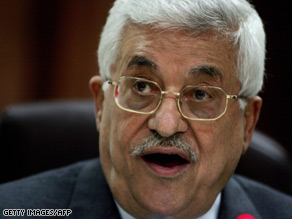 Palestinian President Mahmoud Abbas speaks to reporters Wednesday about possible reconciliation with Hamas.
Abbas said the goal of the "national unity" talks would be to produce new elections for the Palestinians, who elected a Hamas-led Palestinian Authority government in a U.S.-backed vote in 2006.
Mahmoud al-Zahar, a leading Hamas figure, welcomed the call for talks but stopped short of agreeing to them.
Hamas took full control of Gaza in June 2007 after routing Palestinian security agencies under the control of Abbas and his Fatah movement. Hamas refuses to recognize Israel's right to exist and is considered a terrorist organization by the United States, the European Union and Israel.
Fatah still controls the West Bank, and Yemeni officials have been working in recent months to reunite the two factions. Meanwhile, Abbas' Western-backed government is still working toward a peace agreement with Israel despite routine rocket attacks on Israel from Hamas-run Gaza.
The Bush administration has said it wants to reach an Israeli-Palestinian peace agreement by the end of the year.
Don't Miss
In a speech Tuesday in Washington, U.S. Secretary of State Condoleezza Rice said Washington remains hopeful that an agreement on the "basic contours" of a Palestinian state could be reached before the administration leaves office in January.
She added, however, that a peace agreement "will remain beyond the current leadership."
Ahmed Qorei, the chief Palestinian Authority negotiator, said Wednesday that despite some progress, there are still many hurdles to a deal before year's end, including the status of Jerusalem, Palestinian refugees and borders.
But U.S. National Security Adviser Stephen Hadley told reporters at the White House that the two sides "are much closer together than what they have been historically."
"Are those difficult issues? Absolutely," he said. "But is there a prospect -- for the first time, I think, in a long time -- to get an agreement? I think there is."
E-mail to a friend

CNN's Nidal Rafa contributed to this report.
All About Mahmoud Abbas • Hamas • Fatah Organization