LONDON, England (CNN) -- The parents of missing British girl Madeleine McCann launched a video appeal Sunday for information about their daughter's disappearance.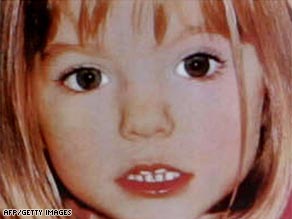 Madeleine McCann has been missing since May 2007.
Madeleine, then aged three, vanished from the family's holiday villa at the Portuguese beach resort of Praia da Luz in May, 2007, as her parents, Kate and Gerry McCann, dined in a nearby restaurant.
The video, released Sunday on the couple's campaign Web site, features previously unseen footage of Madeleine at home with her family in Leicestershire, central England.
In one clip she sings and claps with her younger brother and sister and talks to her father. Other clips show her playing with her father, holding a Christmas present and being held by her mother as an infant.

Watch home video of Madeleine »
The video ends with the message: "This is our second Christmas without Madeleine. Please help us make sure we don't have a third."
The video also contains a phone number -- +44 (0)845 838 4699 -- for anyone to contact with information about Madeline's disappearance.
In a statement on the Web site, the McCanns say: "Reassuringly, we know that there is absolutely no evidence whatsoever to suggest that Madeleine has been seriously harmed... In light of this, we passionately believe that there is a very strong likelihood that Madeleine is out there and can be found."
The couple have campaigned publicly for information about their daughter's whereabouts ever since her disappearance.
Portuguese police closed the investigation into the case in July. "It is therefore even more important now that we, Madeleine's family, do everything we possibly can to try and find our little girl," the McCanns said on their Web site.
Speaking to the UK's Press Association, their spokesman Clarence Mitchell said: "Kate and Gerry are still very much continuing a lot of hard work behind the scenes in the search for their daughter.
"This, they feel, is a timely and appropriate reminder that she is still out there and that somebody somewhere may still have that vital piece of information that may lead to her being found."
E-mail to a friend