LONDON, England (CNN) -- A British man accused of being an al Qaeda recruiter was convicted Thursday of directing terrorism, the first person to be found guilty of the offense in the United Kingdom.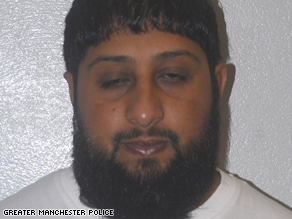 Rangzieb Ahmed had connections across the world and recruited supporters, police said.
Rangzieb Ahmed, 33, was also found guilty of being a member of al Qaeda.
A second defendant, Habib Ahmed, 29, was convicted of the same crime. He was caught with notebooks containing the names of top al Qaeda figures written in invisible ink, Manchester Crown Court heard during the trial.
The investigation -- which included months of wiretapping and surveillance -- gave police an insight into how Osama bin Laden's network operates, the head of Greater Manchester police anti-terror unit told CNN.
The investigation operated "right across the globe, from China, South Africa, the Middle East [to] the UK, connections everywhere," Detective Chief Superintendent Tony Porter said.
Rangzieb Ahmed's contacts with top al Qaeda figures abroad suggested he was "core al Qaeda" himself, Porter said.
Rangzieb Ahmed had contact with Hamza Rabia, the man President Bush accused in 2005 of being al Qaeda's number three, in charge, he said, of planning and recruiting for a new wave of attacks.
Rangzieb Ahmed was one of those recruits, prosecutors said.
Rabia was killed in North Waziristan, Pakistan, in December of that year. Some suspect the United States killed him with a missile, but that has never been confirmed.
Investigators used secret wiretaps to record conversations between Rangzieb Ahmed and Habib Ahmed as they tried to regroup in the wake of Rabia's death, prosecutors said.
When Habib Ahmed flew back to Manchester with three secret notebooks Ahmed had given him, security officers secretly photographed the contents of his luggage.
Back in Manchester, police bugged the taxi Habib Ahmed drove for a living, recording dozens of conversations between the two men.
Habib Ahmed was arrested in August 2006. A search of his home uncovered more evidence: a backpack with traces of explosives that Rangzieb Ahmed tried to get rid of -- and pages from those secret notebooks written up in invisible ink.
Porter said Rangzieb Ahmed was a "charismatic" person who recruited people to al Qaeda's cause.
"Rangzieb Ahmed was a master at that. He sought to exploit people he came across to bring into his ends," Porter said. "We know that one young boy was sent out to Iraq. He hasn't come back. We do fear for his safety."
E-mail to a friend

CNN International Security Correspondent Paula Newton and Producer Andrew Carey in London contributed to this report.
All About Al Qaeda • Terrorism • United Kingdom