PARIS, France (CNN) -- France's interior minister called Wednesday for new security measures in the wake of an explosives discovery at a major Paris department store.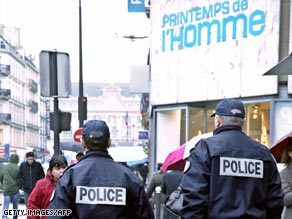 Police officers patrol outside a Printemps store in Paris.
Interior Minister Michele Alliot-Marie met with representatives of the French secret service, police departments, railway services and Paris airports, and department stores to brief them on Tuesday's incident, in which five sticks of dynamite were found inside the upscale Printemps store.
Alliot-Marie said she wants to see three new measures put in place to reinforce security in the coming weeks, including reinforced airport security for passengers and baggage, and new parking restrictions around department stores and train stations.
She also called for police to meet three times a week with the heads of department stores and transportation services to share information.
Separately, more than 80 police patrols will reinforce the 1,500 police officers already present in Paris, she said.
Police on Tuesday found five sticks of dynamite in the restroom on the third floor of Printemps men's department.

See where Printemps is located in Paris »
A letter received by the AFP news agency alerted them to the dynamite. AFP then notified police, who evacuated the store.
The letter was signed by a group called "Front Revolutionaires Afghan," or Afghan Revolutionary Front, and demanded the withdrawal of French troops from Afghanistan.
Jim Bittermann, CNN's senior European correspondent based in Paris, said France has a considerable number of troops in Afghanistan. In August, 10 French soldiers were killed in fighting near the Afghan capital Kabul.
French President Nicolas Sarkozy said earlier this year that his government was willing to commit more troops to the war in Afghanistan.
Alliot-Marie said the investigation into the incident was still under way, and it is too early to draw conclusions. She said the dynamite was "of the type found on construction sites" and said forensics investigators were still examining it.
She said authorities made seven arrests Tuesday in a suspected Islamic extremist circle, but she made no indication that the arrests were connected to the discovery of the dynamite.
The new measures Alliot-Marie called for come in addition to the Plan Vigipirate, France's anti-terrorist security program, which has been in place since July 2005.
Printemps, one of France's most renowned stores, is popular with tourists and locals alike and located on the Boulevard Haussman.
E-mail to a friend

CNN's Jim Bittermann and Niki Cook contributed to this report
All About Afghanistan War • Paris • Nicolas Sarkozy