(CNN) -- A British-based doctor has been freed by the courts in Bangladesh after being held captive by her family and put under pressure to marry against her will, media reports said Monday.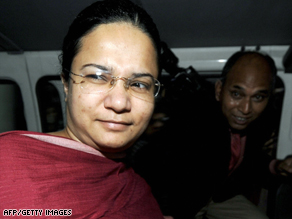 Humayra Abedin climbs into a car following her release by the Bangladesh High court.
Humayra Abedin, 33, from east London, was being held by her parents in the Bangladeshi capital, Dhaka.
Abedin's lawyer confirmed her client had boarded a non-direct flight from Dhaka to London late Sunday, after a judge in Bangladesh branded her parents' actions as "not acceptable," and warned them they would be in "big trouble" if there was any further problem, The British Press Association reported.

After speaking to Abedin shortly before take-off, Anne-Marie Hutchinson told PA: "She's fine, but obviously exhausted and was anxious to leave before people changed their mind."
Abedin came to the UK six years ago to study for a Masters degree in public health at Leeds University. She had hoped to secure a position at a clinic in London in August but, after receiving news her mother had taken ill, returned to Dhaka where she was then held captive.
While in captivity Abedin raised the alarm when she sent an email to a friend requesting help, PA reported. The British High Court then issued an order on December 5 under Britain's new Forced Marriage Act -- this legislation allows British courts to prevent someone from being forced into marriage.
Following the decision by the Dhaka court, Abedin told Sky News Sunday: "I'm relieved that I'm free, I'm happy. I just want to say thank you to all those who supported and helped me.

"I'm fine and I'm feeling happy. I don't have any bad feelings towards them, they are my parents so I don't have any bad feelings."
E-mail to a friend