(CNN) -- Serbian police are conducting another search for war crimes suspect Ratko Mladic and another fugitive, the office of the war crimes prosecutor in Belgrade said Friday.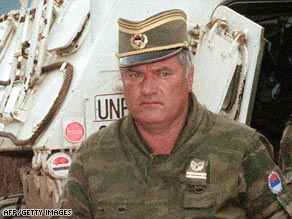 Ratko Mladic, pictured in 1993, is the highest-ranking war crimes suspect still at large.
The search, launched at the request of Serbian war crimes prosecutor Vladimir Vukcevic, is being conducted around the town of Arandjelovac, 45 miles (75 kilometers) south of Belgrade, the prosecutor's office said.
Serbia is offering a reward of 1 million euros for information leading to the capture of Ratko Mladic, the Bosnian Serb general wanted by the United Nations' International Criminal Tribunal for the former Yugoslavia, ICTY, in the Hague. A reward of €250,000 is offered for information leading to the arrest of Serbia's other fugitive, Goran Hadzic.
Mladic is the highest-ranking figure from the conflict to remain at large following the July arrest of former Bosnian Serb leader Radovan Karadzic. Mladic commanded the Bosnian Serb military during the 1992-95 war in Bosnia-Herzegovina.
The U.N. tribunal indicted Mladic in 1995, along with 51 others, on charges involving war crimes and atrocities committed during four years of civil war.
Don't Miss
In July 1996, an international arrest warrant was issued for Mladic after investigators collected evidence at the site of the Srebrenica massacre. Mladic stepped down as military commander in November 1996 and returned to Belgrade. But he disappeared after former Yugoslav President Slobodan Milosevic was arrested in 2001.
The 66-year-old faces charges of genocide and crimes against humanity over the killing of some 7,000 Muslim men and boys at Srebrenica in 1995. He's also wanted for his role in the 1992 shelling of Sarajevo.
In 1992, as hostilities broke out in Sarajevo, Mladic led the "shelling and sniping to target civilian areas of the city and its civilian population and institutions, killing and wounding civilians, and thereby also inflicting terror upon the civilian population," the war crimes tribunal contends.
The status of Mladic is one of the major stumbling block's to Serbia's admission to the European Union. In April Serbia's government signed a preliminary agreement setting the country on the path to full EU membership. But ratification of the agreement was made conditional on Serbia sending Mladic to the Hague.
E-mail to a friend

CNN's Ben Blake in London, England, contributed to this report.
All About Ratko Mladic • Bosnia and Herzegovina • Serbia • Radovan Karadzic