By Al Goodman CNN Madrid Bureau Chief
MADRID, Spain (CNN) -- The key suspect captured Monday in an anti-terrorism raid in France is considered to be the overall chief of the Basque separatist group ETA, Spain's Interior Minister said Wednesday.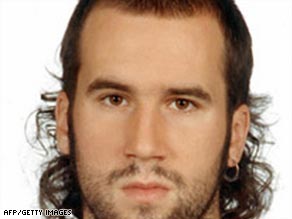 Mikel Garikoitz Aspiazu is considered by officials to be a Basque separatist hardliner.
Authorities on Monday initially said the suspect, Mikel Garikoitz Aspiazu, 35, was the top military chief of ETA, in charge of ordering attacks. But the armed group long has also had a separate leader in charge of policy. Authorities now believe Aspiazu, alias "Txeroki," held both positions.
"Txeroki was in charge of everything, the political apparatus, and the so-called military apparatus. The one who ordered the killings was Txeroki," Interior Minister Alfredo Perez Rubalcaba said in an interview with Spanish radio network SER.
He indicated that Aspiazu, or Txeroki, rose to the top overall position after the arrest last May, also in France, of Francisco Javier Lopez Pena, alias "Thierry." Lopez Pena was then suspected of being ETA's political leader, but authorities later concluded he was ETA's overall leader at the time, Rubalcaba said.
Aspiazu is wanted in connection with the shooting deaths of two plainclothes Spanish Civil Guards last December while the officers were on an anti-ETA investigation in France. He is thought to have been the ETA commander who trained and sent operatives to carry out attacks.
French police arrested Aspiazu at an apartment in the Pyrenees resort village of Cauterets, about 30 kilometers (18 miles) from Lourdes. A woman was also arrested and later identified as Leire Lopez Zurutuza, 31, suspected of being an ETA member and a messenger for Aspiazu to other ETA operatives.
Don't Miss
ETA is blamed for more than 800 deaths in its long fight for Basque independence. It has traditionally used France as its rear-guard base for logistics to carry out attacks, mainly across the border in Spain, and French and Spanish police have cooperated on a number of arrests of top ETA operatives in France.
Despite the latest arrests, top Spanish officials warned that ETA is not yet finished.
"ETA has not lost its ability to attack against all citizens. Nor its capacity to cause pain," Spanish Prime Minister Jose Luis Rodriguez Zapatero said Monday. "But with this arrest, it has suffered a big blow."
Both Aspiazu and Lopez Pena were considered hard-liners who opposed ETA's declaration in March 2006 of a "permanent" unilateral cease-fire, which raised hopes for an end to nearly 40 years of ETA violence.
An ETA bomb at Madrid's airport in December of that year killed two men and caused heavy damage. Authorities suspect Aspiazu of giving the order for that attack.
Although Spain's Socialist government immediately ended the fledgling peace process, ETA did not officially end its cease-fire until June 2007.
On October 30, a powerful car bomb that authorities blamed on ETA injured 27 people in broad daylight at the University of Navarra in the northern Spanish city of Pamplona. And last week, French police arrested two ETA suspects, both armed, as they were riding bicycles.
There are about 600 ETA convicts or suspects in Spanish jails and 150 others in French jails, authorities in the two countries have told CNN.
E-mail to a friend

All About ETA Separatist Group • Spain • France • Basque Country