LONDON, England -- A hit single by convicted pedophile Gary Glitter is to be removed from coursework for a British examination after complaints by child abuse campaigners.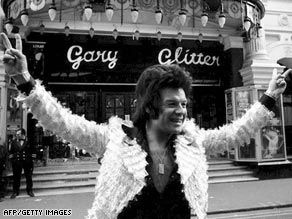 Gary Glitter is pictured in London in 1973 at the height of his fame.
British children's charity Kidscape said Monday the inclusion of "I'm The Leader Of The Gang" in a list of "related listening" for GCSE music coursework aimed at high school-aged students was inappropriate.
The glam rocker's name was spotted on briefing notes sent to teenagers by a school teacher who told The Sun newspaper he thought it was "completely inappropriate."
The exam board, the Assessment and Qualifications Alliance (AQA), said Monday it had recalled the paper and reissued the listening list without Glitter's song.
An AQA spokeswoman told the Press Association: "We regret any offense that has been caused by its inclusion and we will be contacting our centers and recalling the paper."
At the height of his fame in the early 1970s Glitter had several British top 10 hits and sold millions of records. But he fell from grace in 1999 after admitting to possessing child pornography in Britain for which he was jailed for four months.
He later lived in Vietnam where he was convicted for sex offenses against young girls and jailed for nearly three years. After his release he was deported to Britain.
John Dunford, general secretary of the Association of School and College Leaders, said: "Schools registered with this examination board depend on the board to choose appropriate texts, and will have been dismayed at the choice of a Gary Glitter song.
Don't Miss
"No teacher should be in the position of having to discuss this man's work with the young people in their class, and all teachers will have rejected the idea of using this material.
"I welcome the withdrawal of this song, which should never have been included in the first place."
Campaigners warned Glitter could earn royalties from extra sales by students. Michele Elliot, director of Kidscape, told PA the song's inclusion sent "totally the wrong message to pedophiles' victims."
"Thousands of children take this exam. If they buy his song it could be a nice earner for him."
Philip Parkin, general secretary of education trades union Voice, said: "This is inappropriate, crass and insensitive, and calls into question the judgment of those at AQA who decided to include it.
"It is wrong that his work should be publicized in this way and that it could be thought suitable for study by school children.
"It would also be unacceptable if he profited in any way from this."
E-mail to a friend