By Madrid Bureau Chief Al Goodman
MADRID, Spain (CNN) -- One of Osama bin Laden's sons has left Spain after he was denied asylum in the country, an Interior Ministry spokeswoman told CNN Saturday.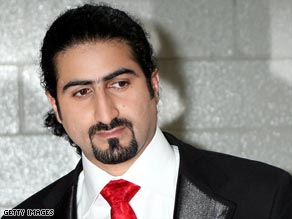 Omar bin Laden pictured earlier this year during a television interview in Rome, Italy.
Omar bin Laden left Madrid Saturday afternoon en route to Cairo, Egypt, she said. The ministry did not divulge why his request was denied.
Spain's decision came after bin Laden appealed the country's initial decision Wednesday to deny him asylum. The man, who is married to a British citizen, previously was denied asylum in Britain. He holds a Saudi passport.
Bin Laden, who is in his late 20s, stepped off a plane from Cairo at Madrid's Barajas International Airport during a stopover late Monday and informed authorities that he planned to request asylum, the spokeswoman said.
He was taken to a secure area of the airport for asylum seekers while his request was processed.
He prepared his formal asylum request Tuesday at the airport with the help of a translator, the spokeswoman said. It was not known on what grounds bin Laden based his request.
He has publicly called on his father -- who is the leader of al Qaeda and the world's most-wanted man -- to abandon terrorism.
Last year, 7,664 people requested asylum in Spain. The government granted that status to only 570, the spokeswoman said.
E-mail to a friend

All About Osama bin Laden