LONDON, England (CNN) -- A Libyan man jailed for the 1988 bombing of a passenger jet over Scotland in which 270 people died has advanced prostate cancer, his lawyer said Thursday.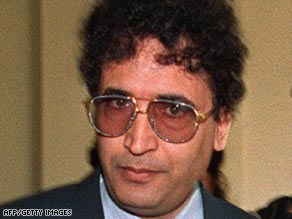 Abdelbaset Ali Mohmed Al Megrahi has been diagnosed with prostrate cancer.
The diagnosis could mean Abdelbaset Ali Mohmed Al Megrahi, 56, a Libyan former intelligence officer, may get early release from the Scottish prison where he is serving a life sentence for the attack on Pan Am Flight 103 over Lockerbie.
Lawyer Tony Kelly would not speculate on whether his client would try to cut short his minimum 27 years in jail. Under Scottish law prisoners with less than three months to freed early on compassionate grounds.
Megrahi was convicted in January 2001 of the bombing, which killed 259 people on board the flight and 11 people on the ground. An appeal of his conviction in the case is pending.
He was convicted after the prosecution argued he had placed a bomb hidden in a suitcase on a flight from Malta to Frankfurt, Germany, where it was transferred onto the Pan Am plane flying to New York via London.
The prosecution maintained that Megrahi, who worked at Malta's Luqa Airport, was an agent for the Libyan intelligence services and had been seen buying clothes that were in the suitcase that contained the bomb.
Libya has formally accepted responsibility for the bombing, though its leader Leader Moammar Gadhafi later denied it. Still, in 2003 Libya agreed to provide each victim's family up to $10 million in compensation.
The families say they have only received part of that money.
E-mail to a friend