By Al Goodman
CNN Madrid Bureau Chief
MADRID, Spain (CNN) -- Spanish police have arrested 121 men and seized millions of computer files in the country's biggest operation against child pornography on the Internet.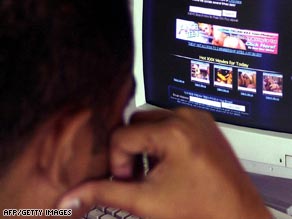 Investigators uncovered a worldwide network that was trading millions of files.
Authorities are looking at 96 others but they have not been placed into custody yet, Manuel Vazquez, the national police chief of the technology investigative brigade, Wednesday.
Eight-hundred police officers participated in the raids on more than 200 homes in most of Spain's provinces.
The operation was conducted in cooperation with federal police in Brazil, which uncovered a worldwide file-sharing network that was trading millions of files in 75 countries.
During their search, officers uncovered computer images of young children in sexually explicit positions, Vazquez said. Some of the pictures depict rape, police said.
Two of the men arrested used their nephews, who were under 10 years of age, for the photographs, Vazquez said.
The men run a gamut of professions: commercial pilots, school janitors, taxi drivers and bank workers, Vazquez said. Four of them were under the age of 18.
The suspects also include a worker in Spain's spy agency, the National Intelligence Center (known by its Spanish acronym CNI), and a national police officer, a national police source told CNN.

Watch more on the bust »
The suspects have been charged with distribution of pornographic material. If convicted, they can face up to eight years in prison.
Spanish authorities have conducted a series of raids in recent years against child pornography rings, often with the assistance of overseas law enforcement agencies.
E-mail to a friend