Editor's note: Fareed Zakaria is a foreign affairs analyst who hosts "Fareed Zakaria: GPS" on CNN at 1 p.m. ET Sundays.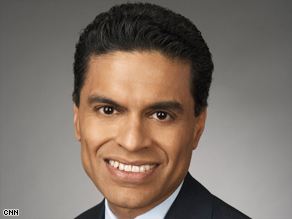 Fareed Zakaria says Moscow must know it has racked up huge costs for little benefit with its actions in Georgia.
NEW YORK (CNN) -- Vice President Dick Cheney said this week the United States firmly backs NATO membership for Georgia, telling Georgian President Mikheil Saakashvili that Washington will help his country rebuild its democracy and economy after last month's conflict with Russia.
The highest-level U.S. official to visit Georgia since the crisis with Russia, Cheney emphasized that the Central Asian nation can count on the U.S. as a solid ally.

"We will help your people to heal this nation's wounds, to rebuild this economy and to ensure Georgia's democracy, independence and further integration with the West," Cheney told Saakashvili in a statement after their meeting Thursday. "In their hearts, the Georgian people have great courage, and in America, they have a sturdy and faithful friend."

Cheney's visit to Tbilisi followed the U.S. announcement of a $1 billion aid package for Georgia to help with humanitarian aid and reconstruction after the conflict.

CNN spoke to world affairs expert and author Fareed Zakaria about the latest developments.

CNN: Is the crisis between Russia and Georgia getting better?
Don't Miss
Zakaria: Not really. There's no movement diplomatically on either side -- they aren't even talking to one another. Europe has been threatening various sanctions, but the Russians don't seem to care much.
CNN: So is this the beginning of a new Russian empire?
Zakaria: I doubt it. Russia simply isn't powerful enough. Its army is nothing like the old Red Army. And its ambitions appear to be somewhat limited in scope. That isn't to justify them, but I don't get the sense that there is a Russian plan for expansion west. Georgia has had a troubled relationship with Russia since the fall of the Soviet Union. The two [breakaway] provinces [of South Ossetia and Abkhazia] are ones where there was fighting from the start.
CNN: But will these tensions spill over?
Zakaria: Well, maybe, but here's a simple piece of economic news to consider. The week that conflict began, oil prices dropped. If the concerns over a new Cold War were real, prices should have spiked. After all, Russia is the world's second-largest oil exporter. But as tensions between the West and Russia have grown, oil prices have continued to drop. Three months ago, oil cost $130 a barrel. This week it traded around $100. As conservatives often remind us, markets tend to embody the collective wisdom and judgment of tens of thousands of participants.
CNN: What are they telling us?
Zakaria: That this is not the end of the world.
CNN: But Russian troops have not withdrawn. Has it won?
Zakaria: I'm not so sure. The ham-handed way in which Moscow has acted -- a brutal and overt military attack -- has triggered a countervailing response in the region and the West. From Caucasian countries like Azerbaijan to Poland and Ukraine to the Baltic republics, everyone has been rattled by the Russian behavior and now seeks stronger ties with the West. Europe and the United States are more united than at any point in two decades. And, the only country in the world that has followed Russia and recognized South Ossetia and Abkhazia is Nicaragua. Moscow must be looking at this and realizing that it has racked up huge costs for little benefit.
CNN: So, no new Cold War?
Zakaria: If there were to be another Cold War, the outcome is preordained. The combined GDP [gross domestic product] of the West is now $30 trillion. Russia meanwhile has an economy that is $1.3 trillion, artificially inflated by high oil prices. A calm and deliberate policy toward Moscow is what the world needs, not hysterical overreactions.
E-mail to a friend

All About Russia • Republic of Georgia • South Ossetia