From Charley Keyes
CNN

WASHINGTON (CNN) -- The Bush administration is poised to withdraw an agreement with Russia on nuclear trade as punishment for Russia's military action last month against U.S. ally Georgia, a State Department source said Friday.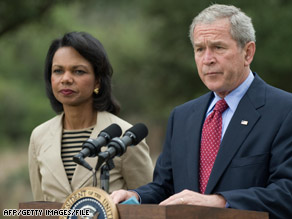 President Bush and Condoleezza Rice have been critical of Russia's use of military force against Georgia.
The pact, known as the 123 Agreement, would clear the way for more trade of nuclear goods, along with services and technology, between the United States and Russia. Both countries had accepted the agreement, but it is awaiting congressional approval.
But as early as next week President Bush could deep-freeze the agreement, withdrawing it from congressional deliberations, the source said.
Russia analyst Jon Wolfsthal at the Center for Strategic and International Studies in Washington noted that the 123 Agreement has been having trouble winning approval on Capitol Hill and said, "I think they are making a virtue out of a necessity.
"It was unlikely Congress was going to approve the agreement this year," he said. "It was too tempting a target for the administration not to pull it back."
In general, Wolfsthal said, the administration needs to move carefully, signaling to Russia that its behavior in Georgia is unacceptable but that cooperation on mutual issues such as Iran and combating terrorism should continue.
"We have to be careful to calibrate our actions," he said.
The United States is frustrated that Russia is dragging its feet on the Georgia cease-fire agreement brokered by French President Nicolas Sarkozy.

Watch Russia's foreign minister discuss the Georgia conflict »
There is also new friction between Washington and Moscow over U.S. emergency aid shipments to Georgia. That heat was seen again Friday when the Russians protested against a top-of-the-line U.S. warship coming into the Georgian port of Poti, where Russian forces are still stationed.
The ship, the USS Mount Whitney, is the Navy's only Joint Command Ship and is considered to be the most sophisticated ship ever commissioned in terms of communication, control, command, computers and intelligence capabilities, according to the Navy's Web site.
State Department deputy spokesman Robert Wood brushed off the Russian accusation that the U.S. warship was bringing in arms.
"The USS Mount Whitney has arrived in Poti," Wood said at his midday briefing. "It's bringing humanitarian supplies such as, I believe, 4,000 blankets, juice, diapers, hygiene products. There's absolutely no foundation to this Russian charge."
Secretary of State Condoleezza Rice has been vague about how the United States could signal its displeasure with Moscow without ratcheting up tensions too far. Again Friday she said the United States and Europe find it extraordinary that Russia is refusing to live up to its cease-fire obligations.
"I am quite certain that Russia will understand that it is deepening its isolation and that it will have no way out unless it honors its commitments and unless it begins to change its behavior," Rice said in Portugal on her way to North Africa. "I'm also confident, by the way, that the Russians are beginning to understand that there are costs to this kind of behavior, in rallying the world against this kind of behavior."
On August 25, asked specifically about the 123 Agreement with Russia, she would only say, "we're going to continue to review what we will do about the various elements of the relationship with Russia."
The "123" refers to the section of the Atomic Energy Act of 1954 about what the United States must do before it can engage other countries in commercial nuclear activities.
Meanwhile, the United States continues to work through a similar civilian nuclear agreement with India. A 45-nation Nuclear Suppliers Group has been meeting in Austria over whether to clear the way for the United States to sell India nuclear material and technology for civilian use.
Before she left for North Africa, Rice held a formal announcement ceremony of a $1 billion aid package for Georgia, the latest signal that the U.S. would stand by its ally and stand up to Russia.
E-mail to a friend

All About Russia • Republic of Georgia • George W. Bush