(CNN) -- British police said Tuesday they now believe a millionaire killed his wife and daughter before setting fire to their mansion home and killing himself.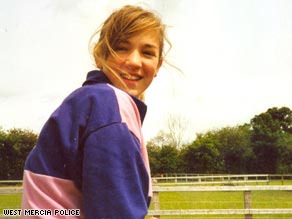 Kirstie Foster is believed to be the third, unidentified body found in the mansion.
Security cameras show a man, who police believe is Christopher Foster, rampaging through the estate's grounds, torching outbuildings and blocking the entrance.
Two of the three bodies found in the burnt-out remains of the property 175 miles (280 kilometers) northwest of London, have been identified as Foster and his wife Jill. The third body has not yet been formally identified but police are working on the theory it is the couple's 15-year-old daughter Kirstie.
West Mercia Police confirmed at a news conference Tuesday: "The body of a man found in the burnt-out mansion has been identified as Christopher Foster ... Police believe Christopher Foster killed his wife and daughter before setting his mansion on fire and committing suicide."
The sprawling Osbaston House was destroyed August 26 by a fierce a blaze, which left the remains too unstable for officers to enter for several days.
Security cameras at the property recorded the man believed to be Foster in the grounds of the property during the early hours of that Tuesday with what appears to be a rifle in his hands, police said Tuesday.
It also shows outbuildings going up in flames and a large horsebox being moved down the driveway to block the gates of the premises. A man, again believed to be Foster, gets out of the vehicle and apparently shoots out two of the tires.
Detective Superintendent Jon Groves, who is leading the investigation, said: "This is a very complex and unusual case and around 100 officers and staff have been working hard to establish the circumstances leading up to the fire at Osbaston House in the early hours of that Tuesday.
"We are not looking for anyone else in connection with the deaths at this stage. This was a terrible tragedy and our thoughts remain with the families of the Fosters at this time. I would once again reiterate their request to be left alone by the media to grieve. "
Further tests are continuing including examination of the site, which could take several days.
On Friday detectives discovered two bodies inside and a rifle, and on Sunday the investigation became a murder inquiry when forensics showed Mrs. Foster, 49, was shot in the head. She was identified by her dental records.
Groves said: "Clearly there is still a lot of work to do on this murder and arson inquiry so we can establish exactly what happened the morning of the fire, including tests on whether the rifle recovered on Friday was the murder weapon."
A third body, which has not been formally identified, was discovered in the property near Maesbrook, Shropshire, on Monday.
Three horses and four dogs were also found dead at the estate. Police said Sunday the animals had been shot.
E-mail to a friend