By CNN's Frederik Pleitgen
BERLIN, Germany (CNN) -- German federal prosecutors have charged three men in connection with a foiled terror plot, a state court spokesman said Tuesday.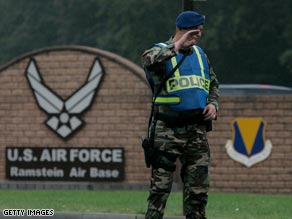 Accused allegedly plotted to attack places in Germany frequented by Americans, including an air base.
The charges were filed against Fritz Gelowicz, Martin Schneider, and Adem Yilmaz for alleged membership in a terrorist organization, said Ulrich Egger, a spokesman for the Duesseldorf State Court, where the federal prosecutor filed the charges.
Egger would not discuss further details because he said the men had not yet received the court documents.
Gelowicz, Schneider and Yilmaz were arrested in September 2007 for allegedly plotting attacks against places frequented by Americans in Germany and possibly against American military installations, including the Ramstein Air Base.
E-mail to a friend