From CNN's Charley Keyes
WASHINGTON (CNN) -- The United States has sent 25 planeloads of humanitarian assistance to Georgia even as aid experts try to determine the full extent of the crisis.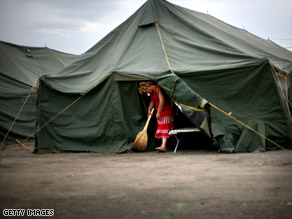 A woman sweeps her tent at a camp for refugees, many from the South Ossetia region, in Tbilisi, Georgia.
The United States is unable to gain access to the breakaway region of South Ossetia, where fighting began August 7 between Georgian and Russian troops.
"We are not allowed into South Ossetia," U.S. Agency for International Development Administrator Henrietta Fore said from the Georgian capitol, Tbilisi.
She said that access to the Georgian city of Gori, near South Ossetia, "is still challenging."
The scope of the humanitarian crisis was unclear, because American and other disaster experts have been denied entry to regions controlled by Russian troops.
"We are calling for full access to all humanitarian teams. That is very important. Humanitarian work -- to be able to save lives, to be able to keep families together -- needs access," Fore said. "We have aid going through implementing partners, so through other agencies, but at this time we are not sending any of our American teams into South Ossetia."
An estimated 130,000 newly displaced people are in Georgia, and most of them "need some sort of assistance, from shelter to water to food," Fore said.
"This is a large and complex challenge for internally displaced persons to have access to food and bedding and mattresses and all of the things that you need for good quality of life."
The United States has provided $7.2 million in humanitarian aid to Georgia, Fore said.
"We anticipate staying as long as there is need and helping to set up the economy," she added.
In addition to 25 U.S. aid flights through Wednesday, two U.S. Navy ships and a U.S. Coast Guard cutter are en route to Georgia after getting permission from Turkey to enter the Black Sea, the State Department said.
Earlier Thursday, State Department spokesman Robert Wood said the United States wants Russia to live up to its agreement to leave Georgia.
"There are a lot of Russian forces moving around but not moving out," Wood said. He said U.S. officials were concerned about reports that Russians were setting up checkpoints. "This is a violation of the cease-fire agreement."
The crisis began when a Georgian military attack on the Russian-backed separatist territory of South Ossetia was followed by Russian troops moving into the former Soviet republic.
E-mail to a friend

All About Republic of Georgia • U.S. Navy