By Paul Willis
For CNN

LONDON, England (CNN) -- Writers can be notoriously prickly about new technology.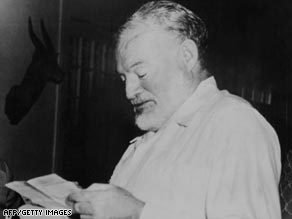 Ernest Hemingway: The granddaddy of "flash fiction"?
When the typewriter started to be mass-produced in the late nineteenth century, for example, many authors avoided it preferring to still pen their work by hand. The same was true of the introduction of computers and, in more recent years, the development of the Internet.
Some writers view the online revolution much more favorably. Author of the worldwide bestseller "The Alchemist," Brazilian Paolo Coelho believes the boundless possibility for communication offered by the Web makes it a great medium for storytelling.
"Today everybody can tell a story. That is magical because everybody can express themselves," says Coelho, who keeps in touch with his global audience via his own successful blog.
One area of storytelling where this democratization of communication offered by the Internet has made positive in-roads is in the world of "flash fiction."
"Flash fiction" or "short short stories" or "microfiction" goes by a number of names and definitions. Usually referring to stories of less than 1,000 words in length, this type of highly condensed writing has roots going back as far as "Aesop's Fables."
The fact these bite-size stories can be enjoyed in a five-minute coffee break at work means they fit neatly into fast-paced lifestyles of many in the modern world. Consequently there has been a proliferation of "flash fiction" on the Web, with E-zines and dedicated sites like Flash Fiction Online showcasing the talents of writers like Bruce Holland Rogers.
Not wanting to miss out on this online phenomenon and eager to showcase some new talent, CNN's Spirit of asked readers to come up with their own examples of the form based on a "flash fiction" classic from Ernest Hemingway.
The American writer once won a bet that he could write a story in just six words, and we asked our readers to do the same. Over 30 of you took up the challenge with some very impressive results.
A straw poll of the Spirit of office found many admiring comments for this dramatic scenario dreamt up by K.B: "One list, seven names, six bullets."
We also liked Douglas Green's story, with its heavy whiff of adultery: "Sweating guilt, he closed the door."
The prize for creating the most intrigue goes to Megan who left us scratching our heads in puzzlement at this unusual epitaph: "E.J. Ross. Born 1979. Died 1942." We also loved Clem's eccentric inversion of the typical love story: "Boy meets girl, girl eats boy."
Finally, for all those fighting with writer's block Dan L. offered these words of wisdom: "Shakespeare had bad days too, right?"
Here's the list in full, many thanks to all those who took part:
Boy meets girl, girl eats boy. (Clem)
Radio Heaven, The brimestone of wine. (Hans Kristian Hansen)
He withdrew, she gasped, he left. (Chris Luff)
Mistaken Identity: Death Row. DNA: Freedom. (Shaun)
Genius at work! Company is welcome. (Dan L)
Shakespeare had bad days too, right? (Dan L)
Do not disturb, writing in progress. (James)
Worthless life, endless waiting, last breath; reminded. (Anupama Aliyar)
Womb for rent. Any offer accepted. (Barbara Fuehrer)
Accepting the Oscar, she thanked me. (Justin)
Arlington: Funeral's Daily. Press not welcome. (1 Soldier)
The dodo deserved to die. (Sani Ahmed)
World peace is non-negotiable. (Sani Ahmed)
Wanted: 1 wife for 3 weeks. (Hannah)
Why can't you ask why? (Danryan)
Week 23. Baby's face in ultrasound. (William Möller)
The dead man woke in darkness. (David Irving)
ID? Here. My only son. (William Möller)
Disgraced former boxing champion found dead. (Andy)
She loved me, I loved not. (Mike D)
E.J. Ross. Born 1979. Died 1942. (Megan)
Father hits, mother lost, child found. (Alina)
Your oil is mine. (Pedro Faria Lopes)
Day27: First ray of sunlight. Hope. (Ram)
One list, 7 names, 6 bullets. (KB)
Sweating guilt, he closed the door. (Douglas Green)
Thinking of a story: undeniable failure. (Lisa-Marie)
Called to serve; willing to die. (NyxKordel)
Three exhausted architects watch returning homeowners. (Kate)
Love dies, passion wanes, marriage over. (Suzanne)
Help us, help you, cure hunger. (Renee Fontana)
E-mail to a friend