(CNN) -- The U.N. refugee agency helped evacuate more than 700 Georgians from the Abkhazia region this week with the cooperation of the Russian and Georgian forces.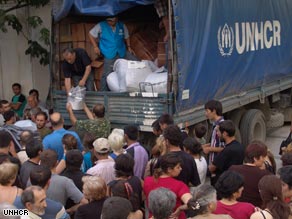 UNHCR staff hand out supplies to displaced families in Tbilisi, Georgia, who fled violence in South Ossetia.
Residents of the remote Khodori Valley, in Georgia's pro-Russian breakaway region, were escorted to safety by U.N. refugee agency staffers, the U.N. High Commissioner for Refugees said.
"Most of these people are in good physical condition, but they have been traumatized and shocked by violent events unfolding over the past week, and they feared for their own safety. They asked us to help with the safe passage," said Srecko Neumann, head of UNHCR's office in Zugdidi.
"This would be impossible without the cooperation of Russian and Georgian authorities."
Last weekend, 732 Georgian civilians from Abkhazia's remote Khodori Valley fled their homes when violence started between Russian and Georgian forces.
Georgia launched a military incursion into breakaway South Ossetia last week to rout separatist rebels. Russia, which supports the separatists, responded the next day, sending tanks across the border into South Ossetia.
Don't Miss
The conflict quickly spread to other parts of Georgia and to Abkhazia, another breakaway region.
When they arrived in the village of Tchuberi, the Georgians contacted the UNHCR for help getting to the village of Kutaisi because they feared passing through military checkpoints manned by Russian and Abkhaz forces.
The UNHCR then contacted Russian and Georgian authorities about their plans. The residents were carried in two convoys from Tchuberi to Kutaisi, with one stop in Zugdidi for water, food and medical treatment.
The corridor was rugged but safe, and there were no injuries, the UNHCR said.
E-mail to a friend

All About Republic of Georgia • Russia • United Nations High Commissioner for Refugees • South Ossetia