TBLISI, Georgia (CNN) -- As Georgian troops launched a major military offensive Friday to regain control over the breakaway province of South Ossetia, the former Soviet republic's president accused Russia of bombing its territory.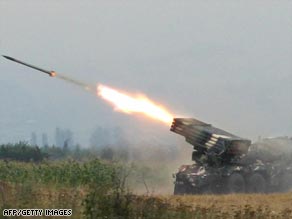 Georgian troops fire rockets at seperatist South Ossetian troops from an unnamed location not far from Tskhinvali.
According to the Associated Press, Mikhail Saakashvili said in a televised statement that Russian aircraft bombed several Georgian villages and other civilian facilities.
He said there were injuries and damage to the buildings. "A full-scale aggression has been launched against Georgia," he said in a televised statement.
A Georgian official said seven people were hurt in the attack, AP reported.
Saakashvili urged Russia to immediately stop bombing Georgian territory. "Georgia will not yield its territory or renounce its freedom," he said.
Meanwhile, AP reported that Russian Prime Minister Vladimir Putin, speaking in televised remarks Friday during his trip to the opening of the Beijing Olympics, blamed Georgia for launching the effort to take control over South Ossetia and warned it would cause an unspecified retaliatory action.

Watch more about the increased violence in Georgia »
The bombing charge came about an hour after Russia's ambassador to the United Nations brushed off a question about whether Russia would intervene militarily in a conflict between Georgia and its breakaway territory.
Violence in the former Soviet republic prompted an emergency session of the United Nations Security Council that lasted into Friday morning. The security council failed to issue a statement on the dramatic escalation of violence in a breakaway territory of the former Soviet republic of Georgia.
Meanwhile, Georgia's president also announced that his government will be calling up reservists as fighting continued to rage in South Ossetia's capital.
Georgian forces launched fresh attacks into region late Thursday after a top government official said a unilateral cease-fire offer was met with artillery fire.
About 2,000 Georgian troops attempted to storm the breakaway territory's capital overnight and were regrouping south of the city, Tskhinvali, according to Russia's ITAR-TASS news agency.
Georgia's ambassador to the United Nations, Irakli Alasania, said that "Russia has become a party to the conflict." He said Russia has supported separatists in South Ossetia, a charge Russia dismissed.
Around 10 a.m. Friday, Georgia said Russian military aircraft violated Georgian airspace and dropped two bombs on Kareli, a part of Georgia that is about 50 miles northwest of the capital, Tblisi, and is not in the conflict zone, said Shota Utiashvili, spokesman for the Georgian Ministry of Interior. No casualties were reported, he said.
Don't Miss
Georgian troops pushed into South Ossetia after separatists attacked Georgian soil, destroying one village and killing several civilians, soldiers and police officers, Alasania said.
Russia's ambassador to the United Nations, Vitaly Churkin, denied allegations that his country planned to intervene militarily. In comments to the Security Council, he decried the "blatant aggressive action of Georgia."
The latest developments follow a week of sporadic clashes between the Georgian central government and authorities in South Ossetia, which declared its independence from Georgia in the early 1990s after a bloody ethnic conflict between Georgians and Ossetians.
Alexander Lomaia, the secretary of Georgia's National Security Council, said his country had to act.
"The objective of the operation is to protect the civilian population, to ensure their security and then convince the separatists that there is not a military solution to this conflict," he said.
Lomaia said Georgian troops were responding proportionately to separatist mortar and artillery attacks on two villages -- attacks he said followed a Thursday evening cease-fire and call for negotiations by Georgian President Mikhail Saakashvili.
"There were up to 10 people killed, including peacekeepers and the peaceful population, and up to 23 people wounded, including four of them wounded quite badly," Lomaia said. But he said Georgia wants a peaceful solution to the conflict and is leaving the door open to negotiations and has offered the territory "the widest possible autonomy."
The official news agency of the South Ossetian government reported heavy shelling in the South Ossetian capital, Tskhinvali, that left dozens of buildings ablaze.
Lomaia said Georgian troops have no plans to reclaim control over the territory as part of the operation launched Thursday night -- but he said how far they advance "is really dependent on how the situation evolves on the ground."
"Obviously, there will be a moment when we will be forced to respond, we will be forced to advance in order to prevent such bombardment," he said. "But at the time being, there is no such aim of the operation."
Georgia, located on the Black Sea coast between Russia and Turkey, has been split by Russian-backed separatist movements in South Ossetia and another region, Abkhzia. Neither region's government has international recognition.
E-mail to a friend

-- Journalist Elene Gotsadze contributed to this report.
All About South Ossetia • Republic of Georgia • Russia