From CNN's Nic Robertson
THE HAGUE, Netherlands (CNN) -- Former Bosnian Serb leader Radovan Karadzic says he made a deal with the United States to disappear from public life -- in exchange for immunity from the war crimes tribunal he's currently facing.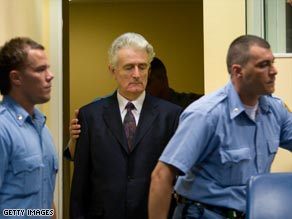 Radovan Karadzic makes an initial appearance at the International Criminal Tribunal for the former Yugoslavia.
In a letter, submitted to the court Thursday and released to the public Friday, Karadzic further explains the accusations he made Thursday in his first appearance before the International Criminal Tribunal for the Former Yugoslavia (ICTY).
An ICTY spokeswoman said she could not comment on the letter because it is part of a case in progress.
Karadzic is charged with 11 counts including genocide, crimes against humanity, and war crimes stemming from the 1992-95 war in Bosnia-Herzegovina, when he was president of a breakaway Serb republic.
Karadzic, 63, says he made a deal in 1996 with U.S. diplomat Richard Holbrooke that involved his complete withdrawal from public life. The "offer," Karadzic says, required him to "become invisible long enough for the Dayton agreement to be implemented in full."

Watch Karadzic's first court appearance »
In exchange, Karadzic writes in the letter, Holbrooke agreed that the former leader would not be tried before the tribunal.
The U.S.-sponsored Dayton peace accord, signed in 1995, ended the three-year war and divided the country into Serb Republic and a Bosnia-Croat Federation. It also established a NATO-led peacekeeping force to maintain peace among the Serb, Muslim and Croat populations. Holbrooke was the architect of the Dayton agreement.
"There is no doubt that this offer was made in the name of the USA," Karadzic writes.
Don't Miss
Responding to Karadzic's accusation Thursday, Holbrooke told CNN it is a "flat-out lie."
"He's been spreading it for 12 years through his friends, now he's making it personally. It would have been morally reprehensible and illegal to do such a thing. ... We made no deal with Radovan Karadzic."
He added, "Why would anyone believe one of the most dangerous and awful mass murderers in modern history?"
Before Serbian authorities announced his arrest July 21, Karadzic had been missing for more than a decade. Afterward it emerged that he had worked at a clinic in Belgrade as an alternative medicine therapist, using an elaborate disguise of a long white beard, white mustache, and long white hair.
Karadzic says the idea for at least part of his ruse came from former U.S. Secretary of State Madeleine Albright, who suggested to the former Serbian president "that I get out of the way and go to Russia, Greece or Serbia and open a private clinic."
Karadzic says he held up his part of the bargain until it became clear that Holbrooke did not want to hold up his end and instead wanted to see him dead.
"Unable to fulfill the commitments he had undertaken on behalf of the USA, he switched to Plan B -- the liquidation of Radovan Karadzic," he writes.
That led Karadzic to want to turn himself in to the tribunal at the Hague, where he knew he would at least be safe from the threat of death, Karadzic says. The tribunal does not impose the death penalty, and should he be convicted, Karadzic may face a sentence of life imprisonment.
But Karadzic says he changed his mind when investigators arrived in Pale, Bosnia -- his headquarters during the war -- and started looking through the archives. The investigators first identified themselves as being from the tribunal, indicating they were unbiased, Karadzic said.
"When it was noticed that they were acting selectively and were reluctant to take exculpatory documents," Karadzic writes, "we realized that we had been tricked and that they were not investigators from the tribunal but investigators from the Office of the Prosecutor who had fooled us and rummaged through our archives without legal permission."
Karadzic's letter also details his arrest in Belgrade, building on hints from his Belgrade lawyer that he was not arrested when Serbian authorities said he was.
"Unknown civilians showed me a badge so quickly that I could not identify it, took me out of a public transport vehicle and held me in an unknown place for 74 hours," he writes.
Karadzic says his captors never told him who they were, what his rights were, or allow him to call or text his friends.
"For these 74 hours I did not exist," he writes.
Karadzic had insisted on expressing his version of the alleged deal with Holbrooke and the "irregularity" of his arrest during Thursday's proceedings, despite the protests of Judge Alphons Orie, who urged him to submit the matter in writing.
The resulting letter also expresses Karadzic's concerns about the chief prosecutor's promise to bring his case "in the most efficient manner."
Quoting a Serbian proverb which says, "Justice is slow but sure," Karadzic writes, "Speed is essential to the calculations of a gunslinger, but not at all in matters of law and justice."
He also asks how he can have a fair trial when "no one on earth believes in the possibility of an acquittal."
The tribunal accuses Karadzic of leading a campaign that killed thousands of men, women and children -- mainly Bosnian Muslims and Bosnian Croats who were killed by Serbs as part of a violent effort to rid the region of non-Serbs.
Forces under Karadzic's command rounded up tens of thousands of non-Serbs and held them in camps where, an indictment says, the Serbian forces, "tortured, mistreated, sexually assaulted and killed non-Serbs," the tribunal said Wednesday.
"The indictment also charges Karadzic with responsibility for a protracted campaign of shelling and sniping of civilian areas of Sarajevo, killing and wounding thousands of civilians, including children and the elderly," a tribunal statement said.
The Bosnian war was Europe's bloodiest conflict since World War II and the longest of the wars spawned by the breakup of Yugoslavia in the early 1990s.
Backed by the government of then-Yugoslav President Slobodan Milosevic, Bosnian Serb forces seized control of more than half the country and launched a campaign against the Muslim and Croat populations that introduced the term "ethnic cleansing" to the world.
E-mail to a friend

All About Radovan Karadzic • Bosnia and Herzegovina • Serbia