PARIS, France (CNN) -- The French Senate has voted to allow employers to opt out of the country's 35-hour workweek, a significant change to an employment law much loved by French workers.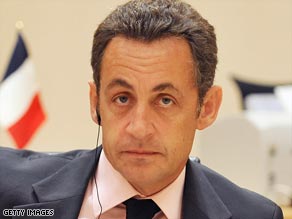 President Sarkozy's government urged lawmakers to approve the changes proposed in the bill.
The measure passed the Senate on Wednesday night. Support came from the UMP party of President Nicolas Sarkozy, who has aimed to make working time more flexible, and the New Center party, Le Monde newspaper reported.
The Socialists and Greens voted against the measure, the paper reported.
The vote retains France's 35-hour workweek but gives employers new powers to decide for their companies how long the workweek will last.
The bill mainly affects companies with full-time, salaried employees and allows those companies to arrange working hours individually with their members of staff.
But even if employees agree to work more than 35 hours, they may work no more than 48 in a given week, including overtime, according to the bill.
The bill also allows companies to pay their employees for overtime rather than just giving them time off, which is currently all they're able to offer. Salaried employees are currently allowed to work a maximum of 218 days a year, but the new bill allows them to agree to work as many as 235 days a year.
Sarkozy has called the 35-hour workweek an "economic error" that has increased costs and reduced the flexibility of workers. His government urged lawmakers to approve the changes proposed in the bill.
The shorter workweek was first introduced 10 years ago with the goal of cutting unemployment in France. The country has since seen a small improvement, with more jobs and less unemployment, but results are not clear-cut.
A 2006 working paper from the International Monetary Fund found the law hurt large firms, where many employees either took on second jobs to make up for the loss in wages or moved to smaller firms where the 35-hour law did not apply.
Green Party lawmaker Martine Billard said the measure effectively authorizes a 48-hour workweek and does away with all the benefits of labor campaigners in the past century.
"You have returned us to 1919," Billard told Radio France International, referring to the year the International Labor Organization was founded in Paris.
E-mail to a friend

-- CNN's Jax Jacobsen contributed to this report.
All About France • Nicolas Sarkozy