By Chief International Correspondent Christiane Amanpour
BERLIN, Germany (CNN) -- Into the foremost symbol of Europe's historic divisions and freedoms, steps U.S. Senator Barack Obama, as he makes an unusual campaign detour around the world.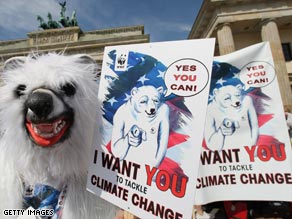 Environmental campaigners in Berlin send a message to Barack Obama.
Stumping for the U.S. presidency, he comes to collect some foreign policy credentials and prove he has what it takes to guide America on the global stage.
It was here, that in 1963 at the height of the Cold War, with Berlin divided into East and West, that President John F. Kennedy came to declare his solidarity with all free people and famously declared "Ich bin ein Berliner."
Here too, as the Cold War was winding down in 1987, President Ronald Reagan came and shouted support across the Brandenberg Gate, over the Berlin Wall, assuring people trapped in the East of U.S. commitment to freedom for all Germans.
He issued his famous challenge to the Soviet leader "Mister Gorbachev, Open this gate! Mr. Gorbachev, tear down this wall." Two years later the wall came down, Communism collapsed all over Europe, east and west Berlin and Germany were reunified.
Today, Barack Obama wants to convince Europeans, and especially voters back home, that he is the man to restore U.S. relations and good standing with the rest of the world.
Don't Miss
He held a series of meetings with German officials, from Chancellor Angela Merkel, to the foreign minister and the mayor of Berlin.
But the centerpiece of this trip is to be a 45-minute speech at the Victory Column, where he will come face to face with ordinary citizens, for the first time in his week-long world-tour.
Obama campaign organizers expect tens of thousands to show up for the free event, that will feature a musical warm-up act, as well as many stalls where food and drink can be purchased.
You've heard of Germany's famous Oktoberfest? Well this is like Obamafest.
His popularity in Germany, as elsewhere in Europe is sky-high. His charisma, youth, energy... and color have inspired people all over the world.
He has also benefited from NOT being U.S. President George W. Bush. Germany's top selling paper, the tabloid BILD, posted his face on its Web site Thursday with the headline "Ich bin ein Obama."
But despite his popularity, Europeans want to know about a President Obama policy.
Will he bring back multi-lateral diplomacy after eight years of President Bush's go-it-alone style? Will he bomb Iran? Will he spur an Arab-Israeli peace process again? Will he lead on the environment? Will he restore America as a beacon of human rights, ban torture and close down Guantanamo Bay?
The top EU trade official is already offering this caution to Obama on NAFTA: stop the crowd pleasing rhetoric, and be serious about U.S. commitment to free trade and unfettered markets.
Europe is looking forward to seeing an internationalist in the White House, no matter who wins the U.S. election in November.
E-mail to a friend

All About Barack Obama • Germany