From CNN Madrid Bureau Chief Al Goodman
MADRID, Spain (CNN) -- Spain expelled a Syrian Tuesday who was convicted last year but later acquitted on appeal of a role in the 2004 Madrid train bombings, a Spanish Interior Ministry spokeswoman said.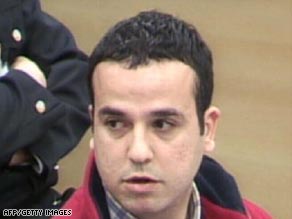 Basel Ghalyoun has been expelled from Spain and sent back to Syria after beating Madrid bombing charge.
Basel Ghalyoun, 28, was detained by police as he left the prison last week following his appeals victory and placed on a commercial flight from Madrid to Damascus, Syria because he lacked immigration papers, the spokeswoman said. Spanish police officers accompanied the man.
Ghalyoun was convicted in the train bombings trial last October of being a member of a terrorist group. He was sentenced to 12 years in prison.
Spain's Supreme Court ruled last Thursday that while Ghalyoun did have "some contacts" with others implicated in the bombings, there was not enough evidence to convict him of terrorist activities.
Ghalyoun was initially a prime suspect in the March 2004 bombings that killed 191 people and wounded 1,800 others on Madrid commuter trains. Arrested 13 days after the bombings, for a time he faced mass murder charges and thousands of years in prison if convicted.
Don't Miss
Those charges were dropped a year ago and replaced with the charge of membership in a terror group.
The Supreme Court cleared four men, including Ghalyoun, and upheld the acquittal of an Egyptian who once was accused as a key plotter.
A Spaniard who had been acquitted earlier was convicted by the Supreme Court last week for explosives trafficking.
After the Supreme Court rulings, 18 convictions in the bombings remained, including 14 Islamic militants and four Spaniards. The latter defendants were convicted for trafficking in explosives used in the attacks.
E-mail to a friend