CANTERBURY, England (CNN) -- Controversy over gay clergy and female bishops is likely to dominate the Anglican church's once-a-decade conference, which begins Wednesday.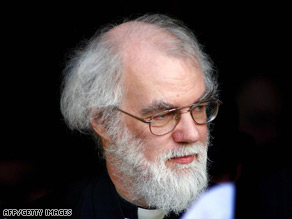 Rowan Williams, Archbishop of Canterbury, faces calls to stop the consecration of more gay bishops.
The Lambeth Conference in Canterbury, southern England, brings together archbishops and bishops from the Anglican church around the world.
But many invited bishops are boycotting the event, angry that the church allowed the consecration of a gay bishop in the United States in 2003.
The head of the Anglican Church, Archbishop of Canterbury Rowan Williams, now faces possible mutiny.
Williams did not invite the gay bishop at the center of the debate, the Rev. Gene Robinson of New Hampshire, in a bid to quell controversy -- but many conservative bishops have still refused to attend.
Although not invited, Robinson still plans to be in Canterbury during the conference.
"I'm here to go to the Lambeth Conference to talk to anyone who wants the experience of talking with someone who is both unashamedly gay and unashamedly Christian," Robinson said.
Robinson is a member of the 2.4-million-member Episcopal Church, the U.S. branch of the 80-million-member worldwide Anglican Communion, which has historic ties to the Church of England.
Conservative Anglican bishops decided last month to form their own movement, The Fellowship of Confessing Anglicans, to counter what they see as the liberalization of the church. Many of the bishops are based in Africa, with several others also from England, the United States and Australia.
The row has triggered speculation about a split in the Anglican Church, the third-largest church in the world after the Roman Catholic Church and the Orthodox Church.
"We can't change Christian truth," said Archbishop Greg Venables, one of the leaders of the new conservative movement. "What God has said about marriage, for example -- male, female, for life -- we can't change that just because the culture is changing."
Venables says the church is already divided over the issue of gay clergy and that a split between liberal and conservative members is inevitable.
"We don't agree. We can't work together. (So) let's work out a way to provide two different ways of being Anglican," he told CNN.
Many conservative Anglicans are also upset at a decision last week by the Church of England to move a step closer to ordaining women as bishops. Queen Elizabeth, as reigning monarch, is the Supreme Governor of the church, although the role is largely symbolic.
Churches in the United States, Canada and New Zealand already allow female bishops, but the decision could see their introduction in England by 2015.
Traditionalists argue that Jesus only wanted men in leadership positions. Some have threatened to leave the Anglican Church for the Roman Catholic Church if women become bishops -- just as several hundred priests did when female ministers were first ordained 16 years ago.
E-mail to a friend

All About The Anglican Communion