From CNN Madrid Bureau Chief Al Goodman
MADRID, Spain (CNN) -- Five people, including a Briton and a Dane, were hurt Monday during the final day of the annual running of the bulls in Pamplona, officials said.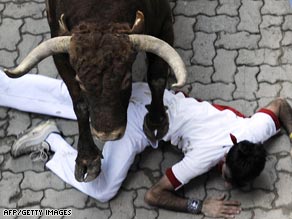 A runner falls in front of a bull during the last run of the San Fermin festivities in Pamplona.
A 31-year-old British man suffered a collar bone injury, the 21-year-old Danish man was hurt in the neck and three Spanish men also went to hospital with various injuries from falls or collisions Monday. None of the five was gored by a bull.
The injuries bring to 45 the number of people who were hurt in the eight days of the running. Four of them were gored, according to a CNN tally based on official medical reports published by the regional government of Navarra.
Twenty-nine of the injured were Spaniards. The other 16 included four Americans, three Britons, and one each from Australia, New Zealand, Denmark, Greece, South Africa, South Korea, Romania, Colombia, and Ghana, authorities said.
The running of the bulls in Pamplona started 400 years ago and became popular worldwide after author Ernest Hemingway wrote about it in the 1920s.
The running is held for eight consecutive days, July 7 to 14, as six bulls and a pack of tame steers run from the corrals through Pamplona's old town to the bull ring, where the bulls will die later in the day in a bullfight.
Don't Miss
The running lasts only a few minutes, starting promptly at 8 a.m. (2 a.m. ET) each day with a few thousand runners, although crowds swell considerably on the weekend.
On Monday, the final day, fewer runners appeared to be in the streets than in previous days. It made for some spectacular moments when runners raced just barely ahead of the tips of the horns of charging bulls, before veering out of harm's way, while the bull pack proceeded onward.
The run lasted just 2 minutes 37 seconds, until all the bulls were safely in the bull ring corrals, said CNN affiliate Cuatro, which televised the event.
Thirteen people have been killed in the runs since 1924, when record-keeping began. The last was a 22-year-old American gored to death in 1995.
E-mail to a friend

All About Spain