From CNN Madrid Bureau Chief Al Goodman
MADRID, Spain (CNN) -- One man was gored in the abdomen and another suffered facial injuries on the third day of the annual running of the bulls in Pamplona, Spain, a hospital doctor told Spanish state television Wednesday.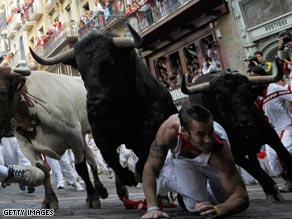 A fighting bull leaps over a fallen runner at the Mercaderes curve during the running of the bulls.
A 22-year-old Californian, who was gored, was taken to a hospital and was "stable and conscious," said the doctor, Ignacio Yurss, medical director of Hospital de Navarra. The patient's name was not released.
The man who suffered facial injuries comes from Greece and was injured in the nose, Yurss added.
The latest injuries bring to 20 the number of runners who have been hurt in the first three days of the running.

Watch the running of the bulls in Pamplona »
Two of those were due to bull gorings -- the Californian gored Wednesday and a Spaniard gored Tuesday. The other 18 injuries resulted from falls or collisions, the regional government of Navarra reported.
Ten of the injured are Spanish. The other 10 include three Americans and one each from England, Australia, New Zealand, Greece, South Africa, South Korea, and Romania, the Navarra government said. Many of the 20 have already been released from the hospital.
The running of the bulls in Pamplona started 400 years ago and became popular worldwide after Ernest Hemingway wrote about it in the 1920s.
The running is held for eight consecutive days, July 7 to 14, as six bulls and a pack of tame steers run from the corrals through Pamplona's old town to the bull ring, where the bulls will die later in the day in a bullfight.
A total of 13 people have been killed in the runs since 1924, when record-keeping began. The last was a 22-year-old American gored to death in 1995.
The runs begin off at 8 a.m. (2 a.m. ET) each day, with a few thousand runners participating daily, although crowds swell at the weekend.
E-mail to a friend

All About Spain