From State Department Producer Charley Keyes
WASHINGTON (CNN) -- U.S. Secretary of State Condoleezza Rice tried and failed just before leaving for Europe on Monday to seal a deal to place missiles in Poland, the State Department said.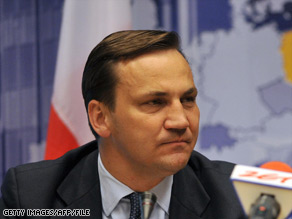 Polish Minister of Foreign Affairs Radoslaw Sikorski.
But even with her personal intervention, Rice left for Europe without a key piece of the U.S. plan to put missiles on the continent to protect against "rogue states" such as Iran, State Department spokesman Sean McCormack said.
Rice met with her Polish counterpart, Minister of Foreign Affairs Radoslaw Sikorski, at the State Department.
She will be in Prague on Tuesday to sign a treaty with the Czech government to allow the radar for the missile system to be placed there.
It is still possible that she could extend her European schedule and add a trip to Poland if negotiations in the next couple of days produce a Polish government agreement to put the missiles on its soil, McCormack told reporters at his regular midday briefing.
"The fact that the Polish foreign minister is here today is evidence that we are continuing to work on these negotiations," he said.
"We didn't conclude them in time for the beginning of the secretary's travel. That doesn't mean we are not going to keep working. It is an important issue for Poland. It's an important issue for the United States and it's an important issue for NATO as well."
In addition the Czech Republic, Rice's scheduled includes stops in Bulgaria and Georgia.
"She's going to be traveling in Europe and if there were a possibility of signing something, that would have been positive," McCormack said.
He refused to predict if an agreement could be reached later this week. "I don't do timelines on negotiations," he said.
The U.S. plan is to place in Poland a small number of interceptor missiles -- starting with 10 -- that could stop ballistic missiles launched by Iran or other countries. Russia has vigorously opposed the U.S. proposal, claiming the missiles would be a threat to its own security.
E-mail to a friend

All About Missile Defense Agency