LONDON, England (CNN) -- Police have arrested a man in connection with the brutal stabbing killings of two French students in London this week.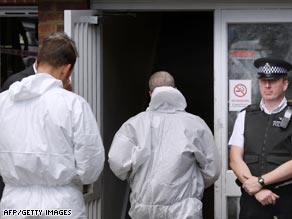 Police forensic officers arrive at burnt out flat belonging to two French students murdered in south London.
Police arrested the 21-year-old in London at 3:40 a.m. on Saturday, London's Metropolitan Police said. He was being held at a southeast London police station.
The bodies of Laurent Bonomo and Gabriel Ferez, both 23, were discovered Sunday in a burned-out London apartment. Police said the graduate biochemistry students had been bound and stabbed in what one detective called a "frenzied, brutal, horrific attack."
Police released no other details about the suspect. They continued to appeal for witnesses and information about the case.
Firefighters found the students' bodies late Sunday after responding to a fire caused by an explosion at Bonomo's rented room on a quiet cul-de-sac in south London, police said. They initially believed the men died in the fire, but a post-mortem exam showed they died of multiple stab wounds to the head, neck, torso, and back.
Bonomo had been stabbed 196 times, and Ferez was stabbed 47 times, police said.
Mick Duthie, a homicide detective with the Metropolitan Police, said everyone working on the case was "deeply shocked" by the extent of the injuries and that he had never seen anything like it in his career.
Police said whoever killed the men set fire to the room, using accelerant to cause an explosion.
"I wouldn't say this was a professional attack -- I would say it's a frenzied, brutal, horrific attack," Duthie said Thursday.
Bonomo and Ferez were students at Universite Blaise-Pascale in Clermont Ferrand, France. They had arrived in London in late May to do research at Imperial College in London and were planning to return to France at the end of July, Duthie said.
Both had been studying DNA and the cleansing of protein within DNA, he said.
Police said they were at a loss to explain why the men were targeted. They said Bonomo's apartment had been broken into six days before the fire, and investigators were trying to find out whether the two incidents were related.
E-mail to a friend